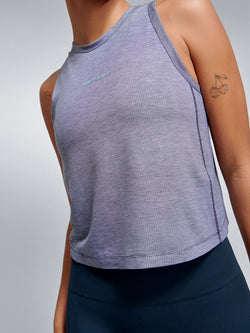 FREE RETURNS ON ALL ORDERS
Not quite your size? No problem.
We offer free returns + exchanges on all orders.
Free Returns and Exchanges
A revolutionary blend of technical plant fibres (Seacell and Tencel) meticulously crafted to enhance your workouts. This lightweight cropped tank offers optimum flexibility and breathability, with a loose draping silhouette.
Prepare to be in awe of the advanced features of Seacell and Tencel fibres. These specialised natural fibres outperform cotton, delivering better moisture control, breathability and durability. The Seacell fibre is derived from a blend of cellulose and seaweed, contributing skin-friendly properties to soothe and nourish your skin. Additionally, the Tencel fibre adds an irresistible touch of softness, and exceptional moisture-wicking properties will keep your skin feeling fresh and dry throughout your workout. Both fibres are also renewable and biodegradable, while needing less water and energy to grow than cotton - requiring zero pesticides.
Length: Waist
Fit: Relaxed
Jaida wears size S is 5'7" - Underbust 30", Waist 28", Hips 33.5"
Care: Machine wash at 30°
Fabric: 70.5% Tencel, 23.5% Seacell, 6% Lyocell
Made in Lithuania
Not sure on size? We're here to help. Whilst you'll find sizing guidelines below, if you're still unsure, you're welcome to get in contact with our Experts and we'll give you our recommendations!
| Jersey Tops | XS | S | M | L |
| --- | --- | --- | --- | --- |
| UK/AU | 6 - 8 | 10 - 12 | 12 - 14 | 14 - 16 |
| US | 2 - 4 | 6 - 8 | 8 - 10 | 10 - 12 |
| EU | 34 - 36 | 36 - 38 | 38 - 40 | 40 - 42 |
| Jersey Tops | XS - S | S - M | M - L | L - XL |
| --- | --- | --- | --- | --- |
| UK/AU | 6 - 8 | 8 - 10 | 12 - 14 | 14 - 16 |
| US | 2 - 4 | 4 - 6 | 8 - 10 | 10 - 12 |
| EU | 34 - 36 | 36 - 38 | 40 - 42 | 42 - 44 |
| Jersey Tops | XS - S | S - M | M - L | L - XL |
| --- | --- | --- | --- | --- |
| UK/AU | 6 - 8 | 8 - 10 | 12 - 14 | 16 |
| US | 2 - 4 | 4 - 6 | 8 - 10 | 12 |
| EU | 34 - 36 | 36 - 38 | 40 - 42 | 44 |
| Jersey Tops | XS - S | S - M | M - L | L - XL |
| --- | --- | --- | --- | --- |
| UK/AU | 6 - 8 | 8 - 10 | 12 - 14 | 14 - 16 |
| US | 2 - 4 | 4 - 6 | 8 - 10 | 10 - 12 |
| EU | 34 - 36 | 36 - 38 | 40 - 42 | 42 - 44 |
| Jersey Tops | XS - S | S - M | M - L | L - XL |
| --- | --- | --- | --- | --- |
| UK/AU | 6 - 8 | 8 - 10 | 12 - 14 | 16 |
| US | 2 - 4 | 4 - 6 | 8 - 10 | 12 |
| EU | 34 - 36 | 36 - 38 | 40 - 42 | 44 |
| Jersey Tops | XS - S | S - M | M - L | L - XL |
| --- | --- | --- | --- | --- |
| UK/AU | 6 - 8 | 8 - 10 | 12 - 14 | 14 - 16 |
| US | 2 - 4 | 4 - 6 | 8 - 10 | 10 - 12 |
| EU | 34 - 36 | 36 - 38 | 40 - 42 | 42 - 44 |
| Jersey Tops | XS - S | S - M | M - L | L - XL |
| --- | --- | --- | --- | --- |
| UK/AU | 6 - 8 | 8 - 10 | 12 - 14 | 16 |
| US | 2 - 4 | 4 - 6 | 8 - 10 | 12 |
| EU | 34 - 36 | 36 - 38 | 40 - 42 | 44 |
| Jersey Tops | XS - S | S - M | M - L | L - XL |
| --- | --- | --- | --- | --- |
| UK/AU | 6 - 8 | 8 - 10 | 12 - 14 | 14 - 16 |
| US | 2 - 4 | 4 - 6 | 8 - 10 | 10 - 12 |
| EU | 34 - 36 | 36 - 38 | 40 - 42 | 42 - 44 |
| Jersey Tops | XS - S | S - M | M - L | L - XL |
| --- | --- | --- | --- | --- |
| UK/AU | 6 - 8 | 8 - 10 | 12 - 14 | 16 |
| US | 2 - 4 | 4 - 6 | 8 - 10 | 12 |
| EU | 34 - 36 | 36 - 38 | 40 - 42 | 44 |
| Jersey Tops | XS - S | S - M | M - L | L - XL |
| --- | --- | --- | --- | --- |
| UK/AU | 6 - 8 | 8 - 10 | 12 - 14 | 14 - 16 |
| US | 2 - 4 | 4 - 6 | 8 - 10 | 10 - 12 |
| EU | 34 - 36 | 36 - 38 | 40 - 42 | 42 - 44 |
| Jersey Tops | XS - S | S - M | M - L | L - XL |
| --- | --- | --- | --- | --- |
| UK/AU | 6 - 8 | 8 - 10 | 12 - 14 | 16 |
| US | 2 - 4 | 4 - 6 | 8 - 10 | 12 |
| EU | 34 - 36 | 36 - 38 | 40 - 42 | 44 |
| Jersey Tops | XS - S | S - M | M - L | L - XL |
| --- | --- | --- | --- | --- |
| UK/AU | 6 - 8 | 8 - 10 | 12 - 14 | 14 - 16 |
| US | 2 - 4 | 4 - 6 | 8 - 10 | 10 - 12 |
| EU | 34 - 36 | 36 - 38 | 40 - 42 | 42 - 44 |
| Jersey Tops | XS - S | S - M | M - L | L - XL |
| --- | --- | --- | --- | --- |
| UK/AU | 6 - 8 | 8 - 10 | 12 - 14 | 16 |
| US | 2 - 4 | 4 - 6 | 8 - 10 | 12 |
| EU | 34 - 36 | 36 - 38 | 40 - 42 | 44 |
| Jersey Tops | XS - S | S - M | M - L | L - XL |
| --- | --- | --- | --- | --- |
| UK/AU | 6 - 8 | 8 - 10 | 12 - 14 | 14 - 16 |
| US | 2 - 4 | 4 - 6 | 8 - 10 | 10 - 12 |
| EU | 34 - 36 | 36 - 38 | 40 - 42 | 42 - 44 |
| Jersey Tops | XS - S | S - M | M - L | L - XL |
| --- | --- | --- | --- | --- |
| UK/AU | 6 - 8 | 8 - 10 | 12 - 14 | 16 |
| US | 2 - 4 | 4 - 6 | 8 - 10 | 12 |
| EU | 34 - 36 | 36 - 38 | 40 - 42 | 44 |
| Jersey Tops | XS - S | S - M | M - L | L - XL |
| --- | --- | --- | --- | --- |
| UK/AU | 6 - 8 | 8 - 10 | 12 - 14 | 14 - 16 |
| US | 2 - 4 | 4 - 6 | 8 - 10 | 10 - 12 |
| EU | 34 - 36 | 36 - 38 | 40 - 42 | 42 - 44 |
| Jersey Tops | XS - S | S - M | M - L | L - XL |
| --- | --- | --- | --- | --- |
| UK/AU | 6 - 8 | 8 - 10 | 12 - 14 | 16 |
| US | 2 - 4 | 4 - 6 | 8 - 10 | 12 |
| EU | 34 - 36 | 36 - 38 | 40 - 42 | 44 |
| Jersey Tops | XS - S | S - M | M - L | L - XL |
| --- | --- | --- | --- | --- |
| UK/AU | 6 - 8 | 8 - 10 | 12 - 14 | 14 - 16 |
| US | 2 - 4 | 4 - 6 | 8 - 10 | 10 - 12 |
| EU | 34 - 36 | 36 - 38 | 40 - 42 | 42 - 44 |
| Jersey Tops | XS - S | S - M | M - L | L - XL |
| --- | --- | --- | --- | --- |
| UK/AU | 6 - 8 | 8 - 10 | 12 - 14 | 16 |
| US | 2 - 4 | 4 - 6 | 8 - 10 | 12 |
| EU | 34 - 36 | 36 - 38 | 40 - 42 | 44 |
| Jersey Tops | XS - S | S - M | M - L | L - XL |
| --- | --- | --- | --- | --- |
| UK/AU | 6 - 8 | 8 - 10 | 12 - 14 | 14 - 16 |
| US | 2 - 4 | 4 - 6 | 8 - 10 | 10 - 12 |
| EU | 34 - 36 | 36 - 38 | 40 - 42 | 42 - 44 |
| Jersey Tops | XS - S | S - M | M - L | L - XL |
| --- | --- | --- | --- | --- |
| UK/AU | 6 - 8 | 8 - 10 | 12 - 14 | 16 |
| US | 2 - 4 | 4 - 6 | 8 - 10 | 12 |
| EU | 34 - 36 | 36 - 38 | 40 - 42 | 44 |
| Jersey Tops | XS - S | S - M | M - L | L - XL |
| --- | --- | --- | --- | --- |
| UK/AU | 6 - 8 | 8 - 10 | 12 - 14 | 14 - 16 |
| US | 2 - 4 | 4 - 6 | 8 - 10 | 10 - 12 |
| EU | 34 - 36 | 36 - 38 | 40 - 42 | 42 - 44 |
| Jersey Tops | XS - S | S - M | M - L | L - XL |
| --- | --- | --- | --- | --- |
| UK/AU | 6 - 8 | 8 - 10 | 12 - 14 | 16 |
| US | 2 - 4 | 4 - 6 | 8 - 10 | 12 |
| EU | 34 - 36 | 36 - 38 | 40 - 42 | 44 |
| Jersey Tops | XS - S | S - M | M - L | L - XL |
| --- | --- | --- | --- | --- |
| UK/AU | 6 - 8 | 8 - 10 | 12 - 14 | 14 - 16 |
| US | 2 - 4 | 4 - 6 | 8 - 10 | 10 - 12 |
| EU | 34 - 36 | 36 - 38 | 40 - 42 | 42 - 44 |
| Jersey Tops | XS - S | S - M | M - L | L - XL |
| --- | --- | --- | --- | --- |
| UK/AU | 6 - 8 | 8 - 10 | 12 - 14 | 16 |
| US | 2 - 4 | 4 - 6 | 8 - 10 | 12 |
| EU | 34 - 36 | 36 - 38 | 40 - 42 | 44 |
| Jersey Tops | XS - S | S - M | M - L | L - XL |
| --- | --- | --- | --- | --- |
| UK/AU | 6 - 8 | 8 - 10 | 12 - 14 | 14 - 16 |
| US | 2 - 4 | 4 - 6 | 8 - 10 | 10 - 12 |
| EU | 34 - 36 | 36 - 38 | 40 - 42 | 42 - 44 |
| Jersey Tops | XS - S | S - M | M - L | L - XL |
| --- | --- | --- | --- | --- |
| UK/AU | 6 - 8 | 8 - 10 | 12 - 14 | 16 |
| US | 2 - 4 | 4 - 6 | 8 - 10 | 12 |
| EU | 34 - 36 | 36 - 38 | 40 - 42 | 44 |
| Jersey Tops | XS - S | S - M | M - L | L - XL |
| --- | --- | --- | --- | --- |
| UK/AU | 6 - 8 | 8 - 10 | 12 - 14 | 14 - 16 |
| US | 2 - 4 | 4 - 6 | 8 - 10 | 10 - 12 |
| EU | 34 - 36 | 36 - 38 | 40 - 42 | 42 - 44 |
| Jersey Tops | XS - S | S - M | M - L | L - XL |
| --- | --- | --- | --- | --- |
| UK/AU | 6 - 8 | 8 - 10 | 12 - 14 | 16 |
| US | 2 - 4 | 4 - 6 | 8 - 10 | 12 |
| EU | 34 - 36 | 36 - 38 | 40 - 42 | 44 |
| Jersey Tops | XS - S | S - M | M - L | L - XL |
| --- | --- | --- | --- | --- |
| UK/AU | 6 - 8 | 8 - 10 | 12 - 14 | 14 - 16 |
| US | 2 - 4 | 4 - 6 | 8 - 10 | 10 - 12 |
| EU | 34 - 36 | 36 - 38 | 40 - 42 | 42 - 44 |
| Jersey Tops | XS - S | S - M | M - L | L - XL |
| --- | --- | --- | --- | --- |
| UK/AU | 6 - 8 | 8 - 10 | 12 - 14 | 16 |
| US | 2 - 4 | 4 - 6 | 8 - 10 | 12 |
| EU | 34 - 36 | 36 - 38 | 40 - 42 | 44 |
| Jersey Tops | XS - S | S - M | M - L | L - XL |
| --- | --- | --- | --- | --- |
| UK/AU | 6 - 8 | 8 - 10 | 12 - 14 | 14 - 16 |
| US | 2 - 4 | 4 - 6 | 8 - 10 | 10 - 12 |
| EU | 34 - 36 | 36 - 38 | 40 - 42 | 42 - 44 |
| Jersey Tops | XS - S | S - M | M - L | L - XL |
| --- | --- | --- | --- | --- |
| UK/AU | 6 - 8 | 8 - 10 | 12 - 14 | 16 |
| US | 2 - 4 | 4 - 6 | 8 - 10 | 12 |
| EU | 34 - 36 | 36 - 38 | 40 - 42 | 44 |
| Jersey Tops | XS - S | S - M | M - L | L - XL |
| --- | --- | --- | --- | --- |
| UK/AU | 6 - 8 | 8 - 10 | 12 - 14 | 14 - 16 |
| US | 2 - 4 | 4 - 6 | 8 - 10 | 10 - 12 |
| EU | 34 - 36 | 36 - 38 | 40 - 42 | 42 - 44 |
| Jersey Tops | XS - S | S - M | M - L | L - XL |
| --- | --- | --- | --- | --- |
| UK/AU | 6 - 8 | 8 - 10 | 12 - 14 | 16 |
| US | 2 - 4 | 4 - 6 | 8 - 10 | 12 |
| EU | 34 - 36 | 36 - 38 | 40 - 42 | 44 |
| Jersey Tops | XS - S | S - M | M - L | L - XL |
| --- | --- | --- | --- | --- |
| UK/AU | 6 - 8 | 8 - 10 | 12 - 14 | 14 - 16 |
| US | 2 - 4 | 4 - 6 | 8 - 10 | 10 - 12 |
| EU | 34 - 36 | 36 - 38 | 40 - 42 | 42 - 44 |
| Jersey Tops | XS - S | S - M | M - L | L - XL |
| --- | --- | --- | --- | --- |
| UK/AU | 6 - 8 | 8 - 10 | 12 - 14 | 16 |
| US | 2 - 4 | 4 - 6 | 8 - 10 | 12 |
| EU | 34 - 36 | 36 - 38 | 40 - 42 | 44 |
| Jersey Tops | XS - S | S - M | M - L | L - XL |
| --- | --- | --- | --- | --- |
| UK/AU | 6 - 8 | 8 - 10 | 12 - 14 | 14 - 16 |
| US | 2 - 4 | 4 - 6 | 8 - 10 | 10 - 12 |
| EU | 34 - 36 | 36 - 38 | 40 - 42 | 42 - 44 |
| Jersey Tops | XS - S | S - M | M - L | L - XL |
| --- | --- | --- | --- | --- |
| UK/AU | 6 - 8 | 8 - 10 | 12 - 14 | 16 |
| US | 2 - 4 | 4 - 6 | 8 - 10 | 12 |
| EU | 34 - 36 | 36 - 38 | 40 - 42 | 44 |
| Jersey Tops | XS - S | S - M | M - L | L - XL |
| --- | --- | --- | --- | --- |
| UK/AU | 6 - 8 | 8 - 10 | 12 - 14 | 14 - 16 |
| US | 2 - 4 | 4 - 6 | 8 - 10 | 10 - 12 |
| EU | 34 - 36 | 36 - 38 | 40 - 42 | 42 - 44 |
| Jersey Tops | XS - S | S - M | M - L | L - XL |
| --- | --- | --- | --- | --- |
| UK/AU | 6 - 8 | 8 - 10 | 12 - 14 | 16 |
| US | 2 - 4 | 4 - 6 | 8 - 10 | 12 |
| EU | 34 - 36 | 36 - 38 | 40 - 42 | 44 |
| Jersey Tops | XS - S | S - M | M - L | L - XL |
| --- | --- | --- | --- | --- |
| UK/AU | 6 - 8 | 8 - 10 | 12 - 14 | 14 - 16 |
| US | 2 - 4 | 4 - 6 | 8 - 10 | 10 - 12 |
| EU | 34 - 36 | 36 - 38 | 40 - 42 | 42 - 44 |
| Jersey Tops | XS - S | S - M | M - L | L - XL |
| --- | --- | --- | --- | --- |
| UK/AU | 6 - 8 | 8 - 10 | 12 - 14 | 16 |
| US | 2 - 4 | 4 - 6 | 8 - 10 | 12 |
| EU | 34 - 36 | 36 - 38 | 40 - 42 | 44 |
| Jersey Tops | XS - S | S - M | M - L | L - XL |
| --- | --- | --- | --- | --- |
| UK/AU | 6 - 8 | 8 - 10 | 12 - 14 | 14 - 16 |
| US | 2 - 4 | 4 - 6 | 8 - 10 | 10 - 12 |
| EU | 34 - 36 | 36 - 38 | 40 - 42 | 42 - 44 |
| Jersey Tops | XS - S | S - M | M - L | L - XL |
| --- | --- | --- | --- | --- |
| UK/AU | 6 - 8 | 8 - 10 | 12 - 14 | 16 |
| US | 2 - 4 | 4 - 6 | 8 - 10 | 12 |
| EU | 34 - 36 | 36 - 38 | 40 - 42 | 44 |
| Jersey Tops | XS - S | S - M | M - L | L - XL |
| --- | --- | --- | --- | --- |
| UK/AU | 6 - 8 | 8 - 10 | 12 - 14 | 14 - 16 |
| US | 2 - 4 | 4 - 6 | 8 - 10 | 10 - 12 |
| EU | 34 - 36 | 36 - 38 | 40 - 42 | 42 - 44 |
| Jersey Tops | XS - S | S - M | M - L | L - XL |
| --- | --- | --- | --- | --- |
| UK/AU | 6 - 8 | 8 - 10 | 12 - 14 | 16 |
| US | 2 - 4 | 4 - 6 | 8 - 10 | 12 |
| EU | 34 - 36 | 36 - 38 | 40 - 42 | 44 |
| Jersey Tops | XS - S | S - M | M - L | L - XL |
| --- | --- | --- | --- | --- |
| UK/AU | 6 - 8 | 8 - 10 | 12 - 14 | 14 - 16 |
| US | 2 - 4 | 4 - 6 | 8 - 10 | 10 - 12 |
| EU | 34 - 36 | 36 - 38 | 40 - 42 | 42 - 44 |
| Jersey Tops | XS - S | S - M | M - L | L - XL |
| --- | --- | --- | --- | --- |
| UK/AU | 6 - 8 | 8 - 10 | 12 - 14 | 16 |
| US | 2 - 4 | 4 - 6 | 8 - 10 | 12 |
| EU | 34 - 36 | 36 - 38 | 40 - 42 | 44 |
| Jersey Tops | XS - S | S - M | M - L | L - XL |
| --- | --- | --- | --- | --- |
| UK/AU | 6 - 8 | 8 - 10 | 12 - 14 | 14 - 16 |
| US | 2 - 4 | 4 - 6 | 8 - 10 | 10 - 12 |
| EU | 34 - 36 | 36 - 38 | 40 - 42 | 42 - 44 |
| Jersey Tops | XS - S | S - M | M - L | L - XL |
| --- | --- | --- | --- | --- |
| UK/AU | 6 - 8 | 8 - 10 | 12 - 14 | 16 |
| US | 2 - 4 | 4 - 6 | 8 - 10 | 12 |
| EU | 34 - 36 | 36 - 38 | 40 - 42 | 44 |
| Jersey Tops | XS - S | S - M | M - L | L - XL |
| --- | --- | --- | --- | --- |
| UK/AU | 6 - 8 | 8 - 10 | 12 - 14 | 14 - 16 |
| US | 2 - 4 | 4 - 6 | 8 - 10 | 10 - 12 |
| EU | 34 - 36 | 36 - 38 | 40 - 42 | 42 - 44 |
| Jersey Tops | XS - S | S - M | M - L | L - XL |
| --- | --- | --- | --- | --- |
| UK/AU | 6 - 8 | 8 - 10 | 12 - 14 | 16 |
| US | 2 - 4 | 4 - 6 | 8 - 10 | 12 |
| EU | 34 - 36 | 36 - 38 | 40 - 42 | 44 |
| Jersey Tops | XS - S | S - M | M - L | L - XL |
| --- | --- | --- | --- | --- |
| UK/AU | 6 - 8 | 8 - 10 | 12 - 14 | 14 - 16 |
| US | 2 - 4 | 4 - 6 | 8 - 10 | 10 - 12 |
| EU | 34 - 36 | 36 - 38 | 40 - 42 | 42 - 44 |
| Jersey Tops | XS - S | S - M | M - L | L - XL |
| --- | --- | --- | --- | --- |
| UK/AU | 6 - 8 | 8 - 10 | 12 - 14 | 16 |
| US | 2 - 4 | 4 - 6 | 8 - 10 | 12 |
| EU | 34 - 36 | 36 - 38 | 40 - 42 | 44 |
| Jersey Tops | XS - S | S - M | M - L | L - XL |
| --- | --- | --- | --- | --- |
| UK/AU | 6 - 8 | 8 - 10 | 12 - 14 | 14 - 16 |
| US | 2 - 4 | 4 - 6 | 8 - 10 | 10 - 12 |
| EU | 34 - 36 | 36 - 38 | 40 - 42 | 42 - 44 |
| Jersey Tops | XS - S | S - M | M - L | L - XL |
| --- | --- | --- | --- | --- |
| UK/AU | 6 - 8 | 8 - 10 | 12 - 14 | 16 |
| US | 2 - 4 | 4 - 6 | 8 - 10 | 12 |
| EU | 34 - 36 | 36 - 38 | 40 - 42 | 44 |
| Jersey Tops | XS - S | S - M | M - L | L - XL |
| --- | --- | --- | --- | --- |
| UK/AU | 6 - 8 | 8 - 10 | 12 - 14 | 14 - 16 |
| US | 2 - 4 | 4 - 6 | 8 - 10 | 10 - 12 |
| EU | 34 - 36 | 36 - 38 | 40 - 42 | 42 - 44 |
| Jersey Tops | XS - S | S - M | M - L | L - XL |
| --- | --- | --- | --- | --- |
| UK/AU | 6 - 8 | 8 - 10 | 12 - 14 | 16 |
| US | 2 - 4 | 4 - 6 | 8 - 10 | 12 |
| EU | 34 - 36 | 36 - 38 | 40 - 42 | 44 |
| Jersey Tops | XS - S | S - M | M - L | L - XL |
| --- | --- | --- | --- | --- |
| UK/AU | 6 - 8 | 8 - 10 | 12 - 14 | 14 - 16 |
| US | 2 - 4 | 4 - 6 | 8 - 10 | 10 - 12 |
| EU | 34 - 36 | 36 - 38 | 40 - 42 | 42 - 44 |
| Jersey Tops | XS - S | S - M | M - L | L - XL |
| --- | --- | --- | --- | --- |
| UK/AU | 6 - 8 | 8 - 10 | 12 - 14 | 16 |
| US | 2 - 4 | 4 - 6 | 8 - 10 | 12 |
| EU | 34 - 36 | 36 - 38 | 40 - 42 | 44 |
| Jersey Tops | XS - S | S - M | M - L | L - XL |
| --- | --- | --- | --- | --- |
| UK/AU | 6 - 8 | 8 - 10 | 12 - 14 | 14 - 16 |
| US | 2 - 4 | 4 - 6 | 8 - 10 | 10 - 12 |
| EU | 34 - 36 | 36 - 38 | 40 - 42 | 42 - 44 |
| Jersey Tops | XS - S | S - M | M - L | L - XL |
| --- | --- | --- | --- | --- |
| UK/AU | 6 - 8 | 8 - 10 | 12 - 14 | 16 |
| US | 2 - 4 | 4 - 6 | 8 - 10 | 12 |
| EU | 34 - 36 | 36 - 38 | 40 - 42 | 44 |
| Jersey Tops | XS - S | S - M | M - L | L - XL |
| --- | --- | --- | --- | --- |
| UK/AU | 6 - 8 | 8 - 10 | 12 - 14 | 14 - 16 |
| US | 2 - 4 | 4 - 6 | 8 - 10 | 10 - 12 |
| EU | 34 - 36 | 36 - 38 | 40 - 42 | 42 - 44 |
| Jersey Tops | XS | S | M | L |
| --- | --- | --- | --- | --- |
| UK/AU | 6 - 8 | 10 - 12 | 12 - 14 | 14 - 16 |
| US | 2 - 4 | 6 - 8 | 8 - 10 | 10 - 12 |
| EU | 34 - 36 | 36 - 38 | 38 - 40 | 40 - 42 |
| Jersey Tops | XS - S | S - M | M - L | L - XL |
| --- | --- | --- | --- | --- |
| UK/AU | 6 - 8 | 8 - 10 | 12 - 14 | 14 - 16 |
| US | 2 - 4 | 4 - 6 | 8 - 10 | 10 - 12 |
| EU | 34 - 36 | 36 - 38 | 40 - 42 | 42 - 44 |
| Jersey Tops | XS - S | S - M | M - L | L - XL |
| --- | --- | --- | --- | --- |
| UK/AU | 6 - 8 | 8 - 10 | 12 - 14 | 16 |
| US | 2 - 4 | 4 - 6 | 8 - 10 | 12 |
| EU | 34 - 36 | 36 - 38 | 40 - 42 | 44 |
| Jersey Tops | XS - S | S - M | M - L | L - XL |
| --- | --- | --- | --- | --- |
| UK/AU | 6 - 8 | 8 - 10 | 12 - 14 | 14 - 16 |
| US | 2 - 4 | 4 - 6 | 8 - 10 | 10 - 12 |
| EU | 34 - 36 | 36 - 38 | 40 - 42 | 42 - 44 |
| Jersey Tops | XS - S | S - M | M - L | L - XL |
| --- | --- | --- | --- | --- |
| UK/AU | 6 - 8 | 8 - 10 | 12 - 14 | 16 |
| US | 2 - 4 | 4 - 6 | 8 - 10 | 12 |
| EU | 34 - 36 | 36 - 38 | 40 - 42 | 44 |
| Jersey Tops | XS - S | S - M | M - L | L - XL |
| --- | --- | --- | --- | --- |
| UK/AU | 6 - 8 | 8 - 10 | 12 - 14 | 14 - 16 |
| US | 2 - 4 | 4 - 6 | 8 - 10 | 10 - 12 |
| EU | 34 - 36 | 36 - 38 | 40 - 42 | 42 - 44 |
| Jersey Tops | XS - S | S - M | M - L | L - XL |
| --- | --- | --- | --- | --- |
| UK/AU | 6 - 8 | 8 - 10 | 12 - 14 | 16 |
| US | 2 - 4 | 4 - 6 | 8 - 10 | 12 |
| EU | 34 - 36 | 36 - 38 | 40 - 42 | 44 |
| Jersey Tops | XS - S | S - M | M - L | L - XL |
| --- | --- | --- | --- | --- |
| UK/AU | 6 - 8 | 8 - 10 | 12 - 14 | 14 - 16 |
| US | 2 - 4 | 4 - 6 | 8 - 10 | 10 - 12 |
| EU | 34 - 36 | 36 - 38 | 40 - 42 | 42 - 44 |
| Jersey Tops | XS - S | S - M | M - L | L - XL |
| --- | --- | --- | --- | --- |
| UK/AU | 6 - 8 | 8 - 10 | 12 - 14 | 16 |
| US | 2 - 4 | 4 - 6 | 8 - 10 | 12 |
| EU | 34 - 36 | 36 - 38 | 40 - 42 | 44 |
| Jersey Tops | XS - S | S - M | M - L | L - XL |
| --- | --- | --- | --- | --- |
| UK/AU | 6 - 8 | 8 - 10 | 12 - 14 | 14 - 16 |
| US | 2 - 4 | 4 - 6 | 8 - 10 | 10 - 12 |
| EU | 34 - 36 | 36 - 38 | 40 - 42 | 42 - 44 |
| Jersey Tops | XS - S | S - M | M - L | L - XL |
| --- | --- | --- | --- | --- |
| UK/AU | 6 - 8 | 8 - 10 | 12 - 14 | 16 |
| US | 2 - 4 | 4 - 6 | 8 - 10 | 12 |
| EU | 34 - 36 | 36 - 38 | 40 - 42 | 44 |
| Jersey Tops | XS - S | S - M | M - L | L - XL |
| --- | --- | --- | --- | --- |
| UK/AU | 6 - 8 | 8 - 10 | 12 - 14 | 14 - 16 |
| US | 2 - 4 | 4 - 6 | 8 - 10 | 10 - 12 |
| EU | 34 - 36 | 36 - 38 | 40 - 42 | 42 - 44 |
| Jersey Tops | XS - S | S - M | M - L | L - XL |
| --- | --- | --- | --- | --- |
| UK/AU | 6 - 8 | 8 - 10 | 12 - 14 | 16 |
| US | 2 - 4 | 4 - 6 | 8 - 10 | 12 |
| EU | 34 - 36 | 36 - 38 | 40 - 42 | 44 |
| Jersey Tops | XS - S | S - M | M - L | L - XL |
| --- | --- | --- | --- | --- |
| UK/AU | 6 - 8 | 8 - 10 | 12 - 14 | 14 - 16 |
| US | 2 - 4 | 4 - 6 | 8 - 10 | 10 - 12 |
| EU | 34 - 36 | 36 - 38 | 40 - 42 | 42 - 44 |
| Jersey Tops | XS - S | S - M | M - L | L - XL |
| --- | --- | --- | --- | --- |
| UK/AU | 6 - 8 | 8 - 10 | 12 - 14 | 16 |
| US | 2 - 4 | 4 - 6 | 8 - 10 | 12 |
| EU | 34 - 36 | 36 - 38 | 40 - 42 | 44 |
| Jersey Tops | XS - S | S - M | M - L | L - XL |
| --- | --- | --- | --- | --- |
| UK/AU | 6 - 8 | 8 - 10 | 12 - 14 | 14 - 16 |
| US | 2 - 4 | 4 - 6 | 8 - 10 | 10 - 12 |
| EU | 34 - 36 | 36 - 38 | 40 - 42 | 42 - 44 |
| Jersey Tops | XS - S | S - M | M - L | L - XL |
| --- | --- | --- | --- | --- |
| UK/AU | 6 - 8 | 8 - 10 | 12 - 14 | 16 |
| US | 2 - 4 | 4 - 6 | 8 - 10 | 12 |
| EU | 34 - 36 | 36 - 38 | 40 - 42 | 44 |
| Jersey Tops | XS - S | S - M | M - L | L - XL |
| --- | --- | --- | --- | --- |
| UK/AU | 6 - 8 | 8 - 10 | 12 - 14 | 14 - 16 |
| US | 2 - 4 | 4 - 6 | 8 - 10 | 10 - 12 |
| EU | 34 - 36 | 36 - 38 | 40 - 42 | 42 - 44 |
| Jersey Tops | XS - S | S - M | M - L | L - XL |
| --- | --- | --- | --- | --- |
| UK/AU | 6 - 8 | 8 - 10 | 12 - 14 | 16 |
| US | 2 - 4 | 4 - 6 | 8 - 10 | 12 |
| EU | 34 - 36 | 36 - 38 | 40 - 42 | 44 |
| Jersey Tops | XS - S | S - M | M - L | L - XL |
| --- | --- | --- | --- | --- |
| UK/AU | 6 - 8 | 8 - 10 | 12 - 14 | 14 - 16 |
| US | 2 - 4 | 4 - 6 | 8 - 10 | 10 - 12 |
| EU | 34 - 36 | 36 - 38 | 40 - 42 | 42 - 44 |
| Jersey Tops | XS - S | S - M | M - L | L - XL |
| --- | --- | --- | --- | --- |
| UK/AU | 6 - 8 | 8 - 10 | 12 - 14 | 16 |
| US | 2 - 4 | 4 - 6 | 8 - 10 | 12 |
| EU | 34 - 36 | 36 - 38 | 40 - 42 | 44 |
| Jersey Tops | XS - S | S - M | M - L | L - XL |
| --- | --- | --- | --- | --- |
| UK/AU | 6 - 8 | 8 - 10 | 12 - 14 | 14 - 16 |
| US | 2 - 4 | 4 - 6 | 8 - 10 | 10 - 12 |
| EU | 34 - 36 | 36 - 38 | 40 - 42 | 42 - 44 |
| Jersey Tops | XS - S | S - M | M - L | L - XL |
| --- | --- | --- | --- | --- |
| UK/AU | 6 - 8 | 8 - 10 | 12 - 14 | 16 |
| US | 2 - 4 | 4 - 6 | 8 - 10 | 12 |
| EU | 34 - 36 | 36 - 38 | 40 - 42 | 44 |
| Jersey Tops | XS - S | S - M | M - L | L - XL |
| --- | --- | --- | --- | --- |
| UK/AU | 6 - 8 | 8 - 10 | 12 - 14 | 14 - 16 |
| US | 2 - 4 | 4 - 6 | 8 - 10 | 10 - 12 |
| EU | 34 - 36 | 36 - 38 | 40 - 42 | 42 - 44 |
| Jersey Tops | XS - S | S - M | M - L | L - XL |
| --- | --- | --- | --- | --- |
| UK/AU | 6 - 8 | 8 - 10 | 12 - 14 | 16 |
| US | 2 - 4 | 4 - 6 | 8 - 10 | 12 |
| EU | 34 - 36 | 36 - 38 | 40 - 42 | 44 |
| Jersey Tops | XS - S | S - M | M - L | L - XL |
| --- | --- | --- | --- | --- |
| UK/AU | 6 - 8 | 8 - 10 | 12 - 14 | 14 - 16 |
| US | 2 - 4 | 4 - 6 | 8 - 10 | 10 - 12 |
| EU | 34 - 36 | 36 - 38 | 40 - 42 | 42 - 44 |
| Jersey Tops | XS - S | S - M | M - L | L - XL |
| --- | --- | --- | --- | --- |
| UK/AU | 6 - 8 | 8 - 10 | 12 - 14 | 16 |
| US | 2 - 4 | 4 - 6 | 8 - 10 | 12 |
| EU | 34 - 36 | 36 - 38 | 40 - 42 | 44 |
| Jersey Tops | XS - S | S - M | M - L | L - XL |
| --- | --- | --- | --- | --- |
| UK/AU | 6 - 8 | 8 - 10 | 12 - 14 | 14 - 16 |
| US | 2 - 4 | 4 - 6 | 8 - 10 | 10 - 12 |
| EU | 34 - 36 | 36 - 38 | 40 - 42 | 42 - 44 |
| Jersey Tops | XS - S | S - M | M - L | L - XL |
| --- | --- | --- | --- | --- |
| UK/AU | 6 - 8 | 8 - 10 | 12 - 14 | 16 |
| US | 2 - 4 | 4 - 6 | 8 - 10 | 12 |
| EU | 34 - 36 | 36 - 38 | 40 - 42 | 44 |
| Jersey Tops | XS - S | S - M | M - L | L - XL |
| --- | --- | --- | --- | --- |
| UK/AU | 6 - 8 | 8 - 10 | 12 - 14 | 14 - 16 |
| US | 2 - 4 | 4 - 6 | 8 - 10 | 10 - 12 |
| EU | 34 - 36 | 36 - 38 | 40 - 42 | 42 - 44 |
| Jersey Tops | XS - S | S - M | M - L | L - XL |
| --- | --- | --- | --- | --- |
| UK/AU | 6 - 8 | 8 - 10 | 12 - 14 | 16 |
| US | 2 - 4 | 4 - 6 | 8 - 10 | 12 |
| EU | 34 - 36 | 36 - 38 | 40 - 42 | 44 |
| Jersey Tops | XS - S | S - M | M - L | L - XL |
| --- | --- | --- | --- | --- |
| UK/AU | 6 - 8 | 8 - 10 | 12 - 14 | 14 - 16 |
| US | 2 - 4 | 4 - 6 | 8 - 10 | 10 - 12 |
| EU | 34 - 36 | 36 - 38 | 40 - 42 | 42 - 44 |
| Jersey Tops | XS - S | S - M | M - L | L - XL |
| --- | --- | --- | --- | --- |
| UK/AU | 6 - 8 | 8 - 10 | 12 - 14 | 16 |
| US | 2 - 4 | 4 - 6 | 8 - 10 | 12 |
| EU | 34 - 36 | 36 - 38 | 40 - 42 | 44 |
| Jersey Tops | XS - S | S - M | M - L | L - XL |
| --- | --- | --- | --- | --- |
| UK/AU | 6 - 8 | 8 - 10 | 12 - 14 | 14 - 16 |
| US | 2 - 4 | 4 - 6 | 8 - 10 | 10 - 12 |
| EU | 34 - 36 | 36 - 38 | 40 - 42 | 42 - 44 |
| Jersey Tops | XS - S | S - M | M - L | L - XL |
| --- | --- | --- | --- | --- |
| UK/AU | 6 - 8 | 8 - 10 | 12 - 14 | 16 |
| US | 2 - 4 | 4 - 6 | 8 - 10 | 12 |
| EU | 34 - 36 | 36 - 38 | 40 - 42 | 44 |
| Jersey Tops | XS - S | S - M | M - L | L - XL |
| --- | --- | --- | --- | --- |
| UK/AU | 6 - 8 | 8 - 10 | 12 - 14 | 14 - 16 |
| US | 2 - 4 | 4 - 6 | 8 - 10 | 10 - 12 |
| EU | 34 - 36 | 36 - 38 | 40 - 42 | 42 - 44 |
| Jersey Tops | XS - S | S - M | M - L | L - XL |
| --- | --- | --- | --- | --- |
| UK/AU | 6 - 8 | 8 - 10 | 12 - 14 | 16 |
| US | 2 - 4 | 4 - 6 | 8 - 10 | 12 |
| EU | 34 - 36 | 36 - 38 | 40 - 42 | 44 |
| Jersey Tops | XS - S | S - M | M - L | L - XL |
| --- | --- | --- | --- | --- |
| UK/AU | 6 - 8 | 8 - 10 | 12 - 14 | 14 - 16 |
| US | 2 - 4 | 4 - 6 | 8 - 10 | 10 - 12 |
| EU | 34 - 36 | 36 - 38 | 40 - 42 | 42 - 44 |
| Jersey Tops | XS - S | S - M | M - L | L - XL |
| --- | --- | --- | --- | --- |
| UK/AU | 6 - 8 | 8 - 10 | 12 - 14 | 16 |
| US | 2 - 4 | 4 - 6 | 8 - 10 | 12 |
| EU | 34 - 36 | 36 - 38 | 40 - 42 | 44 |
| Jersey Tops | XS - S | S - M | M - L | L - XL |
| --- | --- | --- | --- | --- |
| UK/AU | 6 - 8 | 8 - 10 | 12 - 14 | 14 - 16 |
| US | 2 - 4 | 4 - 6 | 8 - 10 | 10 - 12 |
| EU | 34 - 36 | 36 - 38 | 40 - 42 | 42 - 44 |
| Jersey Tops | XS - S | S - M | M - L | L - XL |
| --- | --- | --- | --- | --- |
| UK/AU | 6 - 8 | 8 - 10 | 12 - 14 | 16 |
| US | 2 - 4 | 4 - 6 | 8 - 10 | 12 |
| EU | 34 - 36 | 36 - 38 | 40 - 42 | 44 |
| Jersey Tops | XS - S | S - M | M - L | L - XL |
| --- | --- | --- | --- | --- |
| UK/AU | 6 - 8 | 8 - 10 | 12 - 14 | 14 - 16 |
| US | 2 - 4 | 4 - 6 | 8 - 10 | 10 - 12 |
| EU | 34 - 36 | 36 - 38 | 40 - 42 | 42 - 44 |
| Jersey Tops | XS - S | S - M | M - L | L - XL |
| --- | --- | --- | --- | --- |
| UK/AU | 6 - 8 | 8 - 10 | 12 - 14 | 16 |
| US | 2 - 4 | 4 - 6 | 8 - 10 | 12 |
| EU | 34 - 36 | 36 - 38 | 40 - 42 | 44 |
| Jersey Tops | XS - S | S - M | M - L | L - XL |
| --- | --- | --- | --- | --- |
| UK/AU | 6 - 8 | 8 - 10 | 12 - 14 | 14 - 16 |
| US | 2 - 4 | 4 - 6 | 8 - 10 | 10 - 12 |
| EU | 34 - 36 | 36 - 38 | 40 - 42 | 42 - 44 |
| Jersey Tops | XS - S | S - M | M - L | L - XL |
| --- | --- | --- | --- | --- |
| UK/AU | 6 - 8 | 8 - 10 | 12 - 14 | 16 |
| US | 2 - 4 | 4 - 6 | 8 - 10 | 12 |
| EU | 34 - 36 | 36 - 38 | 40 - 42 | 44 |
| Jersey Tops | XS - S | S - M | M - L | L - XL |
| --- | --- | --- | --- | --- |
| UK/AU | 6 - 8 | 8 - 10 | 12 - 14 | 14 - 16 |
| US | 2 - 4 | 4 - 6 | 8 - 10 | 10 - 12 |
| EU | 34 - 36 | 36 - 38 | 40 - 42 | 42 - 44 |
| Jersey Tops | XS - S | S - M | M - L | L - XL |
| --- | --- | --- | --- | --- |
| UK/AU | 6 - 8 | 8 - 10 | 12 - 14 | 16 |
| US | 2 - 4 | 4 - 6 | 8 - 10 | 12 |
| EU | 34 - 36 | 36 - 38 | 40 - 42 | 44 |
| Jersey Tops | XS - S | S - M | M - L | L - XL |
| --- | --- | --- | --- | --- |
| UK/AU | 6 - 8 | 8 - 10 | 12 - 14 | 14 - 16 |
| US | 2 - 4 | 4 - 6 | 8 - 10 | 10 - 12 |
| EU | 34 - 36 | 36 - 38 | 40 - 42 | 42 - 44 |
| Jersey Tops | XS - S | S - M | M - L | L - XL |
| --- | --- | --- | --- | --- |
| UK/AU | 6 - 8 | 8 - 10 | 12 - 14 | 16 |
| US | 2 - 4 | 4 - 6 | 8 - 10 | 12 |
| EU | 34 - 36 | 36 - 38 | 40 - 42 | 44 |
| Jersey Tops | XS - S | S - M | M - L | L - XL |
| --- | --- | --- | --- | --- |
| UK/AU | 6 - 8 | 8 - 10 | 12 - 14 | 14 - 16 |
| US | 2 - 4 | 4 - 6 | 8 - 10 | 10 - 12 |
| EU | 34 - 36 | 36 - 38 | 40 - 42 | 42 - 44 |
| Jersey Tops | XS - S | S - M | M - L | L - XL |
| --- | --- | --- | --- | --- |
| UK/AU | 6 - 8 | 8 - 10 | 12 - 14 | 16 |
| US | 2 - 4 | 4 - 6 | 8 - 10 | 12 |
| EU | 34 - 36 | 36 - 38 | 40 - 42 | 44 |
| Jersey Tops | XS - S | S - M | M - L | L - XL |
| --- | --- | --- | --- | --- |
| UK/AU | 6 - 8 | 8 - 10 | 12 - 14 | 14 - 16 |
| US | 2 - 4 | 4 - 6 | 8 - 10 | 10 - 12 |
| EU | 34 - 36 | 36 - 38 | 40 - 42 | 42 - 44 |
| Jersey Tops | XS - S | S - M | M - L | L - XL |
| --- | --- | --- | --- | --- |
| UK/AU | 6 - 8 | 8 - 10 | 12 - 14 | 16 |
| US | 2 - 4 | 4 - 6 | 8 - 10 | 12 |
| EU | 34 - 36 | 36 - 38 | 40 - 42 | 44 |
| Jersey Tops | XS - S | S - M | M - L | L - XL |
| --- | --- | --- | --- | --- |
| UK/AU | 6 - 8 | 8 - 10 | 12 - 14 | 14 - 16 |
| US | 2 - 4 | 4 - 6 | 8 - 10 | 10 - 12 |
| EU | 34 - 36 | 36 - 38 | 40 - 42 | 42 - 44 |
| Jersey Tops | XS - S | S - M | M - L | L - XL |
| --- | --- | --- | --- | --- |
| UK/AU | 6 - 8 | 8 - 10 | 12 - 14 | 16 |
| US | 2 - 4 | 4 - 6 | 8 - 10 | 12 |
| EU | 34 - 36 | 36 - 38 | 40 - 42 | 44 |
| Jersey Tops | XS - S | S - M | M - L | L - XL |
| --- | --- | --- | --- | --- |
| UK/AU | 6 - 8 | 8 - 10 | 12 - 14 | 14 - 16 |
| US | 2 - 4 | 4 - 6 | 8 - 10 | 10 - 12 |
| EU | 34 - 36 | 36 - 38 | 40 - 42 | 42 - 44 |
| Jersey Tops | XS - S | S - M | M - L | L - XL |
| --- | --- | --- | --- | --- |
| UK/AU | 6 - 8 | 8 - 10 | 12 - 14 | 16 |
| US | 2 - 4 | 4 - 6 | 8 - 10 | 12 |
| EU | 34 - 36 | 36 - 38 | 40 - 42 | 44 |
| Jersey Tops | XS - S | S - M | M - L | L - XL |
| --- | --- | --- | --- | --- |
| UK/AU | 6 - 8 | 8 - 10 | 12 - 14 | 14 - 16 |
| US | 2 - 4 | 4 - 6 | 8 - 10 | 10 - 12 |
| EU | 34 - 36 | 36 - 38 | 40 - 42 | 42 - 44 |
| Jersey Tops | XS - S | S - M | M - L | L - XL |
| --- | --- | --- | --- | --- |
| UK/AU | 6 - 8 | 8 - 10 | 12 - 14 | 16 |
| US | 2 - 4 | 4 - 6 | 8 - 10 | 12 |
| EU | 34 - 36 | 36 - 38 | 40 - 42 | 44 |
| Jersey Tops | XS - S | S - M | M - L | L - XL |
| --- | --- | --- | --- | --- |
| UK/AU | 6 - 8 | 8 - 10 | 12 - 14 | 14 - 16 |
| US | 2 - 4 | 4 - 6 | 8 - 10 | 10 - 12 |
| EU | 34 - 36 | 36 - 38 | 40 - 42 | 42 - 44 |
| Jersey Tops | XS - S | S - M | M - L | L - XL |
| --- | --- | --- | --- | --- |
| UK/AU | 6 - 8 | 8 - 10 | 12 - 14 | 16 |
| US | 2 - 4 | 4 - 6 | 8 - 10 | 12 |
| EU | 34 - 36 | 36 - 38 | 40 - 42 | 44 |
| Jersey Tops | XS - S | S - M | M - L | L - XL |
| --- | --- | --- | --- | --- |
| UK/AU | 6 - 8 | 8 - 10 | 12 - 14 | 14 - 16 |
| US | 2 - 4 | 4 - 6 | 8 - 10 | 10 - 12 |
| EU | 34 - 36 | 36 - 38 | 40 - 42 | 42 - 44 |
| Jersey Tops | XS - S | S - M | M - L | L - XL |
| --- | --- | --- | --- | --- |
| UK/AU | 6 - 8 | 8 - 10 | 12 - 14 | 16 |
| US | 2 - 4 | 4 - 6 | 8 - 10 | 12 |
| EU | 34 - 36 | 36 - 38 | 40 - 42 | 44 |
| Jersey Tops | XS - S | S - M | M - L | L - XL |
| --- | --- | --- | --- | --- |
| UK/AU | 6 - 8 | 8 - 10 | 12 - 14 | 14 - 16 |
| US | 2 - 4 | 4 - 6 | 8 - 10 | 10 - 12 |
| EU | 34 - 36 | 36 - 38 | 40 - 42 | 42 - 44 |
| UK Measurements | 6 - 8 / XS | 10 - 12 / S | 12 - 14 / M | 14 - 16 / L |
| --- | --- | --- | --- | --- |
| Bust (cm) | 81.5 - 86.5 | 86.5 - 91.5 | 91.5 - 96.5 | 96.5 - 101.5 |
| Bust (in) | 32 - 34 | 34 - 36 | 36 - 38 | 38 - 40 |
| Waist (cm) | 66.5 - 71.5 | 71.5 - 76.5 | 76.5 - 81.5 | 81.5 - 86.5 |
| Waist (in) | 26 - 28 | 28 - 30 | 30 - 32 | 32 - 34 |
| UK Measurements | 6 - 8 / XS - S | 8 - 10 / S - M | 12 - 14 / M - L | 14 - 16 / L - XL |
| --- | --- | --- | --- | --- |
| Bust (cm) | 60 - 70 | 70 - 80 | 80 - 90 | 90 - 95 |
| Bust (in) | 23 - 27 | 27 - 31 | 31 - 35 | 35 - 37 |
| Waist (cm) | 85 - 95 | 95 - 105 | 105 - 115 | 115 - 125 |
| Waist (in) | 33 - 37 | 37 - 41 | 41 - 45 | 45 - 49 |
| UK Measurements | 6 - 8 / XS - S | 8 - 10 / S - M | 12 - 14 / M - L | 16 / L - XL |
| --- | --- | --- | --- | --- |
| Bust (cm) | 60 - 70 | 70 - 80 | 80 - 90 | 90 - 95 |
| Bust (in) | 23 - 27 | 27 - 31 | 31 - 35 | 35 - 37 |
| Waist (cm) | 85 - 95 | 95 - 105 | 105 - 115 | 115 - 125 |
| Waist (in) | 33 - 37 | 37 - 41 | 41 - 45 | 45 - 49 |
| UK Measurements | 6 - 8 / XS - S | 8 - 10 / S - M | 12 - 14 / M - L | 14 - 16 / L - XL |
| --- | --- | --- | --- | --- |
| Bust (cm) | 60 - 70 | 70 - 80 | 80 - 90 | 90 - 95 |
| Bust (in) | 23 - 27 | 27 - 31 | 31 - 35 | 35 - 37 |
| Waist (cm) | 85 - 95 | 95 - 105 | 105 - 115 | 115 - 125 |
| Waist (in) | 33 - 37 | 37 - 41 | 41 - 45 | 45 - 49 |
| UK Measurements | 6 - 8 / XS - S | 8 - 10 / S - M | 12 - 14 / M - L | 16 / L - XL |
| --- | --- | --- | --- | --- |
| Bust (cm) | 60 - 70 | 70 - 80 | 80 - 90 | 90 - 95 |
| Bust (in) | 23 - 27 | 27 - 31 | 31 - 35 | 35 - 37 |
| Waist (cm) | 85 - 95 | 95 - 105 | 105 - 115 | 115 - 125 |
| Waist (in) | 33 - 37 | 37 - 41 | 41 - 45 | 45 - 49 |
| UK Measurements | 6 - 8 / XS - S | 8 - 10 / S - M | 12 - 14 / M - L | 14 - 16 / L - XL |
| --- | --- | --- | --- | --- |
| Bust (cm) | 60 - 70 | 70 - 80 | 80 - 90 | 90 - 95 |
| Bust (in) | 23 - 27 | 27 - 31 | 31 - 35 | 35 - 37 |
| Waist (cm) | 85 - 95 | 95 - 105 | 105 - 115 | 115 - 125 |
| Waist (in) | 33 - 37 | 37 - 41 | 41 - 45 | 45 - 49 |
| UK Measurements | 6 - 8 / XS - S | 8 - 10 / S - M | 12 - 14 / M - L | 16 / L - XL |
| --- | --- | --- | --- | --- |
| Bust (cm) | 60 - 70 | 70 - 80 | 80 - 90 | 90 - 95 |
| Bust (in) | 23 - 27 | 27 - 31 | 31 - 35 | 35 - 37 |
| Waist (cm) | 85 - 95 | 95 - 105 | 105 - 115 | 115 - 125 |
| Waist (in) | 33 - 37 | 37 - 41 | 41 - 45 | 45 - 49 |
| UK Measurements | 6 - 8 / XS - S | 8 - 10 / S - M | 12 - 14 / M - L | 14 - 16 / L - XL |
| --- | --- | --- | --- | --- |
| Bust (cm) | 60 - 70 | 70 - 80 | 80 - 90 | 90 - 95 |
| Bust (in) | 23 - 27 | 27 - 31 | 31 - 35 | 35 - 37 |
| Waist (cm) | 85 - 95 | 95 - 105 | 105 - 115 | 115 - 125 |
| Waist (in) | 33 - 37 | 37 - 41 | 41 - 45 | 45 - 49 |
| UK Measurements | 6 - 8 / XS - S | 8 - 10 / S - M | 12 - 14 / M - L | 16 / L - XL |
| --- | --- | --- | --- | --- |
| Bust (cm) | 60 - 70 | 70 - 80 | 80 - 90 | 90 - 95 |
| Bust (in) | 23 - 27 | 27 - 31 | 31 - 35 | 35 - 37 |
| Waist (cm) | 85 - 95 | 95 - 105 | 105 - 115 | 115 - 125 |
| Waist (in) | 33 - 37 | 37 - 41 | 41 - 45 | 45 - 49 |
| UK Measurements | 6 - 8 / XS - S | 8 - 10 / S - M | 12 - 14 / M - L | 14 - 16 / L - XL |
| --- | --- | --- | --- | --- |
| Bust (cm) | 60 - 70 | 70 - 80 | 80 - 90 | 90 - 95 |
| Bust (in) | 23 - 27 | 27 - 31 | 31 - 35 | 35 - 37 |
| Waist (cm) | 85 - 95 | 95 - 105 | 105 - 115 | 115 - 125 |
| Waist (in) | 33 - 37 | 37 - 41 | 41 - 45 | 45 - 49 |
| UK Measurements | 6 - 8 / XS - S | 8 - 10 / S - M | 12 - 14 / M - L | 16 / L - XL |
| --- | --- | --- | --- | --- |
| Bust (cm) | 60 - 70 | 70 - 80 | 80 - 90 | 90 - 95 |
| Bust (in) | 23 - 27 | 27 - 31 | 31 - 35 | 35 - 37 |
| Waist (cm) | 85 - 95 | 95 - 105 | 105 - 115 | 115 - 125 |
| Waist (in) | 33 - 37 | 37 - 41 | 41 - 45 | 45 - 49 |
| UK Measurements | 6 - 8 / XS - S | 8 - 10 / S - M | 12 - 14 / M - L | 14 - 16 / L - XL |
| --- | --- | --- | --- | --- |
| Bust (cm) | 60 - 70 | 70 - 80 | 80 - 90 | 90 - 95 |
| Bust (in) | 23 - 27 | 27 - 31 | 31 - 35 | 35 - 37 |
| Waist (cm) | 85 - 95 | 95 - 105 | 105 - 115 | 115 - 125 |
| Waist (in) | 33 - 37 | 37 - 41 | 41 - 45 | 45 - 49 |
| UK Measurements | 6 - 8 / XS - S | 8 - 10 / S - M | 12 - 14 / M - L | 16 / L - XL |
| --- | --- | --- | --- | --- |
| Bust (cm) | 60 - 70 | 70 - 80 | 80 - 90 | 90 - 95 |
| Bust (in) | 23 - 27 | 27 - 31 | 31 - 35 | 35 - 37 |
| Waist (cm) | 85 - 95 | 95 - 105 | 105 - 115 | 115 - 125 |
| Waist (in) | 33 - 37 | 37 - 41 | 41 - 45 | 45 - 49 |
| UK Measurements | 6 - 8 / XS - S | 8 - 10 / S - M | 12 - 14 / M - L | 14 - 16 / L - XL |
| --- | --- | --- | --- | --- |
| Bust (cm) | 60 - 70 | 70 - 80 | 80 - 90 | 90 - 95 |
| Bust (in) | 23 - 27 | 27 - 31 | 31 - 35 | 35 - 37 |
| Waist (cm) | 85 - 95 | 95 - 105 | 105 - 115 | 115 - 125 |
| Waist (in) | 33 - 37 | 37 - 41 | 41 - 45 | 45 - 49 |
| UK Measurements | 6 - 8 / XS - S | 8 - 10 / S - M | 12 - 14 / M - L | 16 / L - XL |
| --- | --- | --- | --- | --- |
| Bust (cm) | 60 - 70 | 70 - 80 | 80 - 90 | 90 - 95 |
| Bust (in) | 23 - 27 | 27 - 31 | 31 - 35 | 35 - 37 |
| Waist (cm) | 85 - 95 | 95 - 105 | 105 - 115 | 115 - 125 |
| Waist (in) | 33 - 37 | 37 - 41 | 41 - 45 | 45 - 49 |
| UK Measurements | 6 - 8 / XS - S | 8 - 10 / S - M | 12 - 14 / M - L | 14 - 16 / L - XL |
| --- | --- | --- | --- | --- |
| Bust (cm) | 60 - 70 | 70 - 80 | 80 - 90 | 90 - 95 |
| Bust (in) | 23 - 27 | 27 - 31 | 31 - 35 | 35 - 37 |
| Waist (cm) | 85 - 95 | 95 - 105 | 105 - 115 | 115 - 125 |
| Waist (in) | 33 - 37 | 37 - 41 | 41 - 45 | 45 - 49 |
| UK Measurements | 6 - 8 / XS - S | 8 - 10 / S - M | 12 - 14 / M - L | 16 / L - XL |
| --- | --- | --- | --- | --- |
| Bust (cm) | 60 - 70 | 70 - 80 | 80 - 90 | 90 - 95 |
| Bust (in) | 23 - 27 | 27 - 31 | 31 - 35 | 35 - 37 |
| Waist (cm) | 85 - 95 | 95 - 105 | 105 - 115 | 115 - 125 |
| Waist (in) | 33 - 37 | 37 - 41 | 41 - 45 | 45 - 49 |
| UK Measurements | 6 - 8 / XS - S | 8 - 10 / S - M | 12 - 14 / M - L | 14 - 16 / L - XL |
| --- | --- | --- | --- | --- |
| Bust (cm) | 60 - 70 | 70 - 80 | 80 - 90 | 90 - 95 |
| Bust (in) | 23 - 27 | 27 - 31 | 31 - 35 | 35 - 37 |
| Waist (cm) | 85 - 95 | 95 - 105 | 105 - 115 | 115 - 125 |
| Waist (in) | 33 - 37 | 37 - 41 | 41 - 45 | 45 - 49 |
| UK Measurements | 6 - 8 / XS - S | 8 - 10 / S - M | 12 - 14 / M - L | 16 / L - XL |
| --- | --- | --- | --- | --- |
| Bust (cm) | 60 - 70 | 70 - 80 | 80 - 90 | 90 - 95 |
| Bust (in) | 23 - 27 | 27 - 31 | 31 - 35 | 35 - 37 |
| Waist (cm) | 85 - 95 | 95 - 105 | 105 - 115 | 115 - 125 |
| Waist (in) | 33 - 37 | 37 - 41 | 41 - 45 | 45 - 49 |
| UK Measurements | 6 - 8 / XS - S | 8 - 10 / S - M | 12 - 14 / M - L | 14 - 16 / L - XL |
| --- | --- | --- | --- | --- |
| Bust (cm) | 60 - 70 | 70 - 80 | 80 - 90 | 90 - 95 |
| Bust (in) | 23 - 27 | 27 - 31 | 31 - 35 | 35 - 37 |
| Waist (cm) | 85 - 95 | 95 - 105 | 105 - 115 | 115 - 125 |
| Waist (in) | 33 - 37 | 37 - 41 | 41 - 45 | 45 - 49 |
| UK Measurements | 6 - 8 / XS - S | 8 - 10 / S - M | 12 - 14 / M - L | 16 / L - XL |
| --- | --- | --- | --- | --- |
| Bust (cm) | 60 - 70 | 70 - 80 | 80 - 90 | 90 - 95 |
| Bust (in) | 23 - 27 | 27 - 31 | 31 - 35 | 35 - 37 |
| Waist (cm) | 85 - 95 | 95 - 105 | 105 - 115 | 115 - 125 |
| Waist (in) | 33 - 37 | 37 - 41 | 41 - 45 | 45 - 49 |
| UK Measurements | 6 - 8 / XS - S | 8 - 10 / S - M | 12 - 14 / M - L | 14 - 16 / L - XL |
| --- | --- | --- | --- | --- |
| Bust (cm) | 60 - 70 | 70 - 80 | 80 - 90 | 90 - 95 |
| Bust (in) | 23 - 27 | 27 - 31 | 31 - 35 | 35 - 37 |
| Waist (cm) | 85 - 95 | 95 - 105 | 105 - 115 | 115 - 125 |
| Waist (in) | 33 - 37 | 37 - 41 | 41 - 45 | 45 - 49 |
| UK Measurements | 6 - 8 / XS - S | 8 - 10 / S - M | 12 - 14 / M - L | 16 / L - XL |
| --- | --- | --- | --- | --- |
| Bust (cm) | 60 - 70 | 70 - 80 | 80 - 90 | 90 - 95 |
| Bust (in) | 23 - 27 | 27 - 31 | 31 - 35 | 35 - 37 |
| Waist (cm) | 85 - 95 | 95 - 105 | 105 - 115 | 115 - 125 |
| Waist (in) | 33 - 37 | 37 - 41 | 41 - 45 | 45 - 49 |
| UK Measurements | 6 - 8 / XS - S | 8 - 10 / S - M | 12 - 14 / M - L | 14 - 16 / L - XL |
| --- | --- | --- | --- | --- |
| Bust (cm) | 60 - 70 | 70 - 80 | 80 - 90 | 90 - 95 |
| Bust (in) | 23 - 27 | 27 - 31 | 31 - 35 | 35 - 37 |
| Waist (cm) | 85 - 95 | 95 - 105 | 105 - 115 | 115 - 125 |
| Waist (in) | 33 - 37 | 37 - 41 | 41 - 45 | 45 - 49 |
| UK Measurements | 6 - 8 / XS - S | 8 - 10 / S - M | 12 - 14 / M - L | 16 / L - XL |
| --- | --- | --- | --- | --- |
| Bust (cm) | 60 - 70 | 70 - 80 | 80 - 90 | 90 - 95 |
| Bust (in) | 23 - 27 | 27 - 31 | 31 - 35 | 35 - 37 |
| Waist (cm) | 85 - 95 | 95 - 105 | 105 - 115 | 115 - 125 |
| Waist (in) | 33 - 37 | 37 - 41 | 41 - 45 | 45 - 49 |
| UK Measurements | 6 - 8 / XS - S | 8 - 10 / S - M | 12 - 14 / M - L | 14 - 16 / L - XL |
| --- | --- | --- | --- | --- |
| Bust (cm) | 60 - 70 | 70 - 80 | 80 - 90 | 90 - 95 |
| Bust (in) | 23 - 27 | 27 - 31 | 31 - 35 | 35 - 37 |
| Waist (cm) | 85 - 95 | 95 - 105 | 105 - 115 | 115 - 125 |
| Waist (in) | 33 - 37 | 37 - 41 | 41 - 45 | 45 - 49 |
| UK Measurements | 6 - 8 / XS - S | 8 - 10 / S - M | 12 - 14 / M - L | 16 / L - XL |
| --- | --- | --- | --- | --- |
| Bust (cm) | 60 - 70 | 70 - 80 | 80 - 90 | 90 - 95 |
| Bust (in) | 23 - 27 | 27 - 31 | 31 - 35 | 35 - 37 |
| Waist (cm) | 85 - 95 | 95 - 105 | 105 - 115 | 115 - 125 |
| Waist (in) | 33 - 37 | 37 - 41 | 41 - 45 | 45 - 49 |
| UK Measurements | 6 - 8 / XS - S | 8 - 10 / S - M | 12 - 14 / M - L | 14 - 16 / L - XL |
| --- | --- | --- | --- | --- |
| Bust (cm) | 60 - 70 | 70 - 80 | 80 - 90 | 90 - 95 |
| Bust (in) | 23 - 27 | 27 - 31 | 31 - 35 | 35 - 37 |
| Waist (cm) | 85 - 95 | 95 - 105 | 105 - 115 | 115 - 125 |
| Waist (in) | 33 - 37 | 37 - 41 | 41 - 45 | 45 - 49 |
| UK Measurements | 6 - 8 / XS - S | 8 - 10 / S - M | 12 - 14 / M - L | 16 / L - XL |
| --- | --- | --- | --- | --- |
| Bust (cm) | 60 - 70 | 70 - 80 | 80 - 90 | 90 - 95 |
| Bust (in) | 23 - 27 | 27 - 31 | 31 - 35 | 35 - 37 |
| Waist (cm) | 85 - 95 | 95 - 105 | 105 - 115 | 115 - 125 |
| Waist (in) | 33 - 37 | 37 - 41 | 41 - 45 | 45 - 49 |
| UK Measurements | 6 - 8 / XS - S | 8 - 10 / S - M | 12 - 14 / M - L | 14 - 16 / L - XL |
| --- | --- | --- | --- | --- |
| Bust (cm) | 60 - 70 | 70 - 80 | 80 - 90 | 90 - 95 |
| Bust (in) | 23 - 27 | 27 - 31 | 31 - 35 | 35 - 37 |
| Waist (cm) | 85 - 95 | 95 - 105 | 105 - 115 | 115 - 125 |
| Waist (in) | 33 - 37 | 37 - 41 | 41 - 45 | 45 - 49 |
| UK Measurements | 6 - 8 / XS - S | 8 - 10 / S - M | 12 - 14 / M - L | 16 / L - XL |
| --- | --- | --- | --- | --- |
| Bust (cm) | 60 - 70 | 70 - 80 | 80 - 90 | 90 - 95 |
| Bust (in) | 23 - 27 | 27 - 31 | 31 - 35 | 35 - 37 |
| Waist (cm) | 85 - 95 | 95 - 105 | 105 - 115 | 115 - 125 |
| Waist (in) | 33 - 37 | 37 - 41 | 41 - 45 | 45 - 49 |
| UK Measurements | 6 - 8 / XS - S | 8 - 10 / S - M | 12 - 14 / M - L | 14 - 16 / L - XL |
| --- | --- | --- | --- | --- |
| Bust (cm) | 60 - 70 | 70 - 80 | 80 - 90 | 90 - 95 |
| Bust (in) | 23 - 27 | 27 - 31 | 31 - 35 | 35 - 37 |
| Waist (cm) | 85 - 95 | 95 - 105 | 105 - 115 | 115 - 125 |
| Waist (in) | 33 - 37 | 37 - 41 | 41 - 45 | 45 - 49 |
| UK Measurements | 6 - 8 / XS - S | 8 - 10 / S - M | 12 - 14 / M - L | 16 / L - XL |
| --- | --- | --- | --- | --- |
| Bust (cm) | 60 - 70 | 70 - 80 | 80 - 90 | 90 - 95 |
| Bust (in) | 23 - 27 | 27 - 31 | 31 - 35 | 35 - 37 |
| Waist (cm) | 85 - 95 | 95 - 105 | 105 - 115 | 115 - 125 |
| Waist (in) | 33 - 37 | 37 - 41 | 41 - 45 | 45 - 49 |
| UK Measurements | 6 - 8 / XS - S | 8 - 10 / S - M | 12 - 14 / M - L | 14 - 16 / L - XL |
| --- | --- | --- | --- | --- |
| Bust (cm) | 60 - 70 | 70 - 80 | 80 - 90 | 90 - 95 |
| Bust (in) | 23 - 27 | 27 - 31 | 31 - 35 | 35 - 37 |
| Waist (cm) | 85 - 95 | 95 - 105 | 105 - 115 | 115 - 125 |
| Waist (in) | 33 - 37 | 37 - 41 | 41 - 45 | 45 - 49 |
| UK Measurements | 6 - 8 / XS - S | 8 - 10 / S - M | 12 - 14 / M - L | 16 / L - XL |
| --- | --- | --- | --- | --- |
| Bust (cm) | 60 - 70 | 70 - 80 | 80 - 90 | 90 - 95 |
| Bust (in) | 23 - 27 | 27 - 31 | 31 - 35 | 35 - 37 |
| Waist (cm) | 85 - 95 | 95 - 105 | 105 - 115 | 115 - 125 |
| Waist (in) | 33 - 37 | 37 - 41 | 41 - 45 | 45 - 49 |
| UK Measurements | 6 - 8 / XS - S | 8 - 10 / S - M | 12 - 14 / M - L | 14 - 16 / L - XL |
| --- | --- | --- | --- | --- |
| Bust (cm) | 60 - 70 | 70 - 80 | 80 - 90 | 90 - 95 |
| Bust (in) | 23 - 27 | 27 - 31 | 31 - 35 | 35 - 37 |
| Waist (cm) | 85 - 95 | 95 - 105 | 105 - 115 | 115 - 125 |
| Waist (in) | 33 - 37 | 37 - 41 | 41 - 45 | 45 - 49 |
| UK Measurements | 6 - 8 / XS - S | 8 - 10 / S - M | 12 - 14 / M - L | 16 / L - XL |
| --- | --- | --- | --- | --- |
| Bust (cm) | 60 - 70 | 70 - 80 | 80 - 90 | 90 - 95 |
| Bust (in) | 23 - 27 | 27 - 31 | 31 - 35 | 35 - 37 |
| Waist (cm) | 85 - 95 | 95 - 105 | 105 - 115 | 115 - 125 |
| Waist (in) | 33 - 37 | 37 - 41 | 41 - 45 | 45 - 49 |
| UK Measurements | 6 - 8 / XS - S | 8 - 10 / S - M | 12 - 14 / M - L | 14 - 16 / L - XL |
| --- | --- | --- | --- | --- |
| Bust (cm) | 60 - 70 | 70 - 80 | 80 - 90 | 90 - 95 |
| Bust (in) | 23 - 27 | 27 - 31 | 31 - 35 | 35 - 37 |
| Waist (cm) | 85 - 95 | 95 - 105 | 105 - 115 | 115 - 125 |
| Waist (in) | 33 - 37 | 37 - 41 | 41 - 45 | 45 - 49 |
| UK Measurements | 6 - 8 / XS - S | 8 - 10 / S - M | 12 - 14 / M - L | 16 / L - XL |
| --- | --- | --- | --- | --- |
| Bust (cm) | 60 - 70 | 70 - 80 | 80 - 90 | 90 - 95 |
| Bust (in) | 23 - 27 | 27 - 31 | 31 - 35 | 35 - 37 |
| Waist (cm) | 85 - 95 | 95 - 105 | 105 - 115 | 115 - 125 |
| Waist (in) | 33 - 37 | 37 - 41 | 41 - 45 | 45 - 49 |
| UK Measurements | 6 - 8 / XS - S | 8 - 10 / S - M | 12 - 14 / M - L | 14 - 16 / L - XL |
| --- | --- | --- | --- | --- |
| Bust (cm) | 60 - 70 | 70 - 80 | 80 - 90 | 90 - 95 |
| Bust (in) | 23 - 27 | 27 - 31 | 31 - 35 | 35 - 37 |
| Waist (cm) | 85 - 95 | 95 - 105 | 105 - 115 | 115 - 125 |
| Waist (in) | 33 - 37 | 37 - 41 | 41 - 45 | 45 - 49 |
| UK Measurements | 6 - 8 / XS - S | 8 - 10 / S - M | 12 - 14 / M - L | 16 / L - XL |
| --- | --- | --- | --- | --- |
| Bust (cm) | 60 - 70 | 70 - 80 | 80 - 90 | 90 - 95 |
| Bust (in) | 23 - 27 | 27 - 31 | 31 - 35 | 35 - 37 |
| Waist (cm) | 85 - 95 | 95 - 105 | 105 - 115 | 115 - 125 |
| Waist (in) | 33 - 37 | 37 - 41 | 41 - 45 | 45 - 49 |
| UK Measurements | 6 - 8 / XS - S | 8 - 10 / S - M | 12 - 14 / M - L | 14 - 16 / L - XL |
| --- | --- | --- | --- | --- |
| Bust (cm) | 60 - 70 | 70 - 80 | 80 - 90 | 90 - 95 |
| Bust (in) | 23 - 27 | 27 - 31 | 31 - 35 | 35 - 37 |
| Waist (cm) | 85 - 95 | 95 - 105 | 105 - 115 | 115 - 125 |
| Waist (in) | 33 - 37 | 37 - 41 | 41 - 45 | 45 - 49 |
| UK Measurements | 6 - 8 / XS - S | 8 - 10 / S - M | 12 - 14 / M - L | 16 / L - XL |
| --- | --- | --- | --- | --- |
| Bust (cm) | 60 - 70 | 70 - 80 | 80 - 90 | 90 - 95 |
| Bust (in) | 23 - 27 | 27 - 31 | 31 - 35 | 35 - 37 |
| Waist (cm) | 85 - 95 | 95 - 105 | 105 - 115 | 115 - 125 |
| Waist (in) | 33 - 37 | 37 - 41 | 41 - 45 | 45 - 49 |
| UK Measurements | 6 - 8 / XS - S | 8 - 10 / S - M | 12 - 14 / M - L | 14 - 16 / L - XL |
| --- | --- | --- | --- | --- |
| Bust (cm) | 60 - 70 | 70 - 80 | 80 - 90 | 90 - 95 |
| Bust (in) | 23 - 27 | 27 - 31 | 31 - 35 | 35 - 37 |
| Waist (cm) | 85 - 95 | 95 - 105 | 105 - 115 | 115 - 125 |
| Waist (in) | 33 - 37 | 37 - 41 | 41 - 45 | 45 - 49 |
| UK Measurements | 6 - 8 / XS - S | 8 - 10 / S - M | 12 - 14 / M - L | 16 / L - XL |
| --- | --- | --- | --- | --- |
| Bust (cm) | 60 - 70 | 70 - 80 | 80 - 90 | 90 - 95 |
| Bust (in) | 23 - 27 | 27 - 31 | 31 - 35 | 35 - 37 |
| Waist (cm) | 85 - 95 | 95 - 105 | 105 - 115 | 115 - 125 |
| Waist (in) | 33 - 37 | 37 - 41 | 41 - 45 | 45 - 49 |
| UK Measurements | 6 - 8 / XS - S | 8 - 10 / S - M | 12 - 14 / M - L | 14 - 16 / L - XL |
| --- | --- | --- | --- | --- |
| Bust (cm) | 60 - 70 | 70 - 80 | 80 - 90 | 90 - 95 |
| Bust (in) | 23 - 27 | 27 - 31 | 31 - 35 | 35 - 37 |
| Waist (cm) | 85 - 95 | 95 - 105 | 105 - 115 | 115 - 125 |
| Waist (in) | 33 - 37 | 37 - 41 | 41 - 45 | 45 - 49 |
| UK Measurements | 6 - 8 / XS - S | 8 - 10 / S - M | 12 - 14 / M - L | 16 / L - XL |
| --- | --- | --- | --- | --- |
| Bust (cm) | 60 - 70 | 70 - 80 | 80 - 90 | 90 - 95 |
| Bust (in) | 23 - 27 | 27 - 31 | 31 - 35 | 35 - 37 |
| Waist (cm) | 85 - 95 | 95 - 105 | 105 - 115 | 115 - 125 |
| Waist (in) | 33 - 37 | 37 - 41 | 41 - 45 | 45 - 49 |
| UK Measurements | 6 - 8 / XS - S | 8 - 10 / S - M | 12 - 14 / M - L | 14 - 16 / L - XL |
| --- | --- | --- | --- | --- |
| Bust (cm) | 60 - 70 | 70 - 80 | 80 - 90 | 90 - 95 |
| Bust (in) | 23 - 27 | 27 - 31 | 31 - 35 | 35 - 37 |
| Waist (cm) | 85 - 95 | 95 - 105 | 105 - 115 | 115 - 125 |
| Waist (in) | 33 - 37 | 37 - 41 | 41 - 45 | 45 - 49 |
| UK Measurements | 6 - 8 / XS - S | 8 - 10 / S - M | 12 - 14 / M - L | 16 / L - XL |
| --- | --- | --- | --- | --- |
| Bust (cm) | 60 - 70 | 70 - 80 | 80 - 90 | 90 - 95 |
| Bust (in) | 23 - 27 | 27 - 31 | 31 - 35 | 35 - 37 |
| Waist (cm) | 85 - 95 | 95 - 105 | 105 - 115 | 115 - 125 |
| Waist (in) | 33 - 37 | 37 - 41 | 41 - 45 | 45 - 49 |
| UK Measurements | 6 - 8 / XS - S | 8 - 10 / S - M | 12 - 14 / M - L | 14 - 16 / L - XL |
| --- | --- | --- | --- | --- |
| Bust (cm) | 60 - 70 | 70 - 80 | 80 - 90 | 90 - 95 |
| Bust (in) | 23 - 27 | 27 - 31 | 31 - 35 | 35 - 37 |
| Waist (cm) | 85 - 95 | 95 - 105 | 105 - 115 | 115 - 125 |
| Waist (in) | 33 - 37 | 37 - 41 | 41 - 45 | 45 - 49 |
| UK Measurements | 6 - 8 / XS - S | 8 - 10 / S - M | 12 - 14 / M - L | 16 / L - XL |
| --- | --- | --- | --- | --- |
| Bust (cm) | 60 - 70 | 70 - 80 | 80 - 90 | 90 - 95 |
| Bust (in) | 23 - 27 | 27 - 31 | 31 - 35 | 35 - 37 |
| Waist (cm) | 85 - 95 | 95 - 105 | 105 - 115 | 115 - 125 |
| Waist (in) | 33 - 37 | 37 - 41 | 41 - 45 | 45 - 49 |
| UK Measurements | 6 - 8 / XS - S | 8 - 10 / S - M | 12 - 14 / M - L | 14 - 16 / L - XL |
| --- | --- | --- | --- | --- |
| Bust (cm) | 60 - 70 | 70 - 80 | 80 - 90 | 90 - 95 |
| Bust (in) | 23 - 27 | 27 - 31 | 31 - 35 | 35 - 37 |
| Waist (cm) | 85 - 95 | 95 - 105 | 105 - 115 | 115 - 125 |
| Waist (in) | 33 - 37 | 37 - 41 | 41 - 45 | 45 - 49 |
| UK Measurements | 6 - 8 / XS - S | 8 - 10 / S - M | 12 - 14 / M - L | 16 / L - XL |
| --- | --- | --- | --- | --- |
| Bust (cm) | 60 - 70 | 70 - 80 | 80 - 90 | 90 - 95 |
| Bust (in) | 23 - 27 | 27 - 31 | 31 - 35 | 35 - 37 |
| Waist (cm) | 85 - 95 | 95 - 105 | 105 - 115 | 115 - 125 |
| Waist (in) | 33 - 37 | 37 - 41 | 41 - 45 | 45 - 49 |
| UK Measurements | 6 - 8 / XS - S | 8 - 10 / S - M | 12 - 14 / M - L | 14 - 16 / L - XL |
| --- | --- | --- | --- | --- |
| Bust (cm) | 60 - 70 | 70 - 80 | 80 - 90 | 90 - 95 |
| Bust (in) | 23 - 27 | 27 - 31 | 31 - 35 | 35 - 37 |
| Waist (cm) | 85 - 95 | 95 - 105 | 105 - 115 | 115 - 125 |
| Waist (in) | 33 - 37 | 37 - 41 | 41 - 45 | 45 - 49 |
| UK Measurements | 6 - 8 / XS - S | 8 - 10 / S - M | 12 - 14 / M - L | 16 / L - XL |
| --- | --- | --- | --- | --- |
| Bust (cm) | 60 - 70 | 70 - 80 | 80 - 90 | 90 - 95 |
| Bust (in) | 23 - 27 | 27 - 31 | 31 - 35 | 35 - 37 |
| Waist (cm) | 85 - 95 | 95 - 105 | 105 - 115 | 115 - 125 |
| Waist (in) | 33 - 37 | 37 - 41 | 41 - 45 | 45 - 49 |
| UK Measurements | 6 - 8 / XS - S | 8 - 10 / S - M | 12 - 14 / M - L | 14 - 16 / L - XL |
| --- | --- | --- | --- | --- |
| Bust (cm) | 60 - 70 | 70 - 80 | 80 - 90 | 90 - 95 |
| Bust (in) | 23 - 27 | 27 - 31 | 31 - 35 | 35 - 37 |
| Waist (cm) | 85 - 95 | 95 - 105 | 105 - 115 | 115 - 125 |
| Waist (in) | 33 - 37 | 37 - 41 | 41 - 45 | 45 - 49 |
| UK Measurements | 6 - 8 / XS - S | 8 - 10 / S - M | 12 - 14 / M - L | 16 / L - XL |
| --- | --- | --- | --- | --- |
| Bust (cm) | 60 - 70 | 70 - 80 | 80 - 90 | 90 - 95 |
| Bust (in) | 23 - 27 | 27 - 31 | 31 - 35 | 35 - 37 |
| Waist (cm) | 85 - 95 | 95 - 105 | 105 - 115 | 115 - 125 |
| Waist (in) | 33 - 37 | 37 - 41 | 41 - 45 | 45 - 49 |
| UK Measurements | 6 - 8 / XS - S | 8 - 10 / S - M | 12 - 14 / M - L | 14 - 16 / L - XL |
| --- | --- | --- | --- | --- |
| Bust (cm) | 60 - 70 | 70 - 80 | 80 - 90 | 90 - 95 |
| Bust (in) | 23 - 27 | 27 - 31 | 31 - 35 | 35 - 37 |
| Waist (cm) | 85 - 95 | 95 - 105 | 105 - 115 | 115 - 125 |
| Waist (in) | 33 - 37 | 37 - 41 | 41 - 45 | 45 - 49 |
| UK Measurements | 6 - 8 / XS - S | 8 - 10 / S - M | 12 - 14 / M - L | 16 / L - XL |
| --- | --- | --- | --- | --- |
| Bust (cm) | 60 - 70 | 70 - 80 | 80 - 90 | 90 - 95 |
| Bust (in) | 23 - 27 | 27 - 31 | 31 - 35 | 35 - 37 |
| Waist (cm) | 85 - 95 | 95 - 105 | 105 - 115 | 115 - 125 |
| Waist (in) | 33 - 37 | 37 - 41 | 41 - 45 | 45 - 49 |
| UK Measurements | 6 - 8 / XS - S | 8 - 10 / S - M | 12 - 14 / M - L | 14 - 16 / L - XL |
| --- | --- | --- | --- | --- |
| Bust (cm) | 60 - 70 | 70 - 80 | 80 - 90 | 90 - 95 |
| Bust (in) | 23 - 27 | 27 - 31 | 31 - 35 | 35 - 37 |
| Waist (cm) | 85 - 95 | 95 - 105 | 105 - 115 | 115 - 125 |
| Waist (in) | 33 - 37 | 37 - 41 | 41 - 45 | 45 - 49 |
| UK Measurements | 6 - 8 / XS - S | 8 - 10 / S - M | 12 - 14 / M - L | 16 / L - XL |
| --- | --- | --- | --- | --- |
| Bust (cm) | 60 - 70 | 70 - 80 | 80 - 90 | 90 - 95 |
| Bust (in) | 23 - 27 | 27 - 31 | 31 - 35 | 35 - 37 |
| Waist (cm) | 85 - 95 | 95 - 105 | 105 - 115 | 115 - 125 |
| Waist (in) | 33 - 37 | 37 - 41 | 41 - 45 | 45 - 49 |
| UK Measurements | 6 - 8 / XS - S | 8 - 10 / S - M | 12 - 14 / M - L | 14 - 16 / L - XL |
| --- | --- | --- | --- | --- |
| Bust (cm) | 60 - 70 | 70 - 80 | 80 - 90 | 90 - 95 |
| Bust (in) | 23 - 27 | 27 - 31 | 31 - 35 | 35 - 37 |
| Waist (cm) | 85 - 95 | 95 - 105 | 105 - 115 | 115 - 125 |
| Waist (in) | 33 - 37 | 37 - 41 | 41 - 45 | 45 - 49 |
| UK Measurements | 6 - 8 / XS - S | 8 - 10 / S - M | 12 - 14 / M - L | 16 / L - XL |
| --- | --- | --- | --- | --- |
| Bust (cm) | 60 - 70 | 70 - 80 | 80 - 90 | 90 - 95 |
| Bust (in) | 23 - 27 | 27 - 31 | 31 - 35 | 35 - 37 |
| Waist (cm) | 85 - 95 | 95 - 105 | 105 - 115 | 115 - 125 |
| Waist (in) | 33 - 37 | 37 - 41 | 41 - 45 | 45 - 49 |
| UK Measurements | 6 - 8 / XS - S | 8 - 10 / S - M | 12 - 14 / M - L | 14 - 16 / L - XL |
| --- | --- | --- | --- | --- |
| Bust (cm) | 60 - 70 | 70 - 80 | 80 - 90 | 90 - 95 |
| Bust (in) | 23 - 27 | 27 - 31 | 31 - 35 | 35 - 37 |
| Waist (cm) | 85 - 95 | 95 - 105 | 105 - 115 | 115 - 125 |
| Waist (in) | 33 - 37 | 37 - 41 | 41 - 45 | 45 - 49 |
| UK Measurements | 6 - 8 / XS | 10 - 12 / S | 12 - 14 / M | 14 - 16 / L |
| --- | --- | --- | --- | --- |
| Bust (cm) | 81.5 - 86.5 | 86.5 - 91.5 | 91.5 - 96.5 | 96.5 - 101.5 |
| Bust (in) | 32 - 34 | 34 - 36 | 36 - 38 | 38 - 40 |
| Waist (cm) | 66.5 - 71.5 | 71.5 - 76.5 | 76.5 - 81.5 | 81.5 - 86.5 |
| Waist (in) | 26 - 28 | 28 - 30 | 30 - 32 | 32 - 34 |
| UK Measurements | 6 - 8 / XS - S | 8 - 10 / S - M | 12 - 14 / M - L | 14 - 16 / L - XL |
| --- | --- | --- | --- | --- |
| Bust (cm) | 60 - 70 | 70 - 80 | 80 - 90 | 90 - 95 |
| Bust (in) | 23 - 27 | 27 - 31 | 31 - 35 | 35 - 37 |
| Waist (cm) | 85 - 95 | 95 - 105 | 105 - 115 | 115 - 125 |
| Waist (in) | 33 - 37 | 37 - 41 | 41 - 45 | 45 - 49 |
| UK Measurements | 6 - 8 / XS - S | 8 - 10 / S - M | 12 - 14 / M - L | 16 / L - XL |
| --- | --- | --- | --- | --- |
| Bust (cm) | 60 - 70 | 70 - 80 | 80 - 90 | 90 - 95 |
| Bust (in) | 23 - 27 | 27 - 31 | 31 - 35 | 35 - 37 |
| Waist (cm) | 85 - 95 | 95 - 105 | 105 - 115 | 115 - 125 |
| Waist (in) | 33 - 37 | 37 - 41 | 41 - 45 | 45 - 49 |
| UK Measurements | 6 - 8 / XS - S | 8 - 10 / S - M | 12 - 14 / M - L | 14 - 16 / L - XL |
| --- | --- | --- | --- | --- |
| Bust (cm) | 60 - 70 | 70 - 80 | 80 - 90 | 90 - 95 |
| Bust (in) | 23 - 27 | 27 - 31 | 31 - 35 | 35 - 37 |
| Waist (cm) | 85 - 95 | 95 - 105 | 105 - 115 | 115 - 125 |
| Waist (in) | 33 - 37 | 37 - 41 | 41 - 45 | 45 - 49 |
| UK Measurements | 6 - 8 / XS - S | 8 - 10 / S - M | 12 - 14 / M - L | 16 / L - XL |
| --- | --- | --- | --- | --- |
| Bust (cm) | 60 - 70 | 70 - 80 | 80 - 90 | 90 - 95 |
| Bust (in) | 23 - 27 | 27 - 31 | 31 - 35 | 35 - 37 |
| Waist (cm) | 85 - 95 | 95 - 105 | 105 - 115 | 115 - 125 |
| Waist (in) | 33 - 37 | 37 - 41 | 41 - 45 | 45 - 49 |
| UK Measurements | 6 - 8 / XS - S | 8 - 10 / S - M | 12 - 14 / M - L | 14 - 16 / L - XL |
| --- | --- | --- | --- | --- |
| Bust (cm) | 60 - 70 | 70 - 80 | 80 - 90 | 90 - 95 |
| Bust (in) | 23 - 27 | 27 - 31 | 31 - 35 | 35 - 37 |
| Waist (cm) | 85 - 95 | 95 - 105 | 105 - 115 | 115 - 125 |
| Waist (in) | 33 - 37 | 37 - 41 | 41 - 45 | 45 - 49 |
| UK Measurements | 6 - 8 / XS - S | 8 - 10 / S - M | 12 - 14 / M - L | 16 / L - XL |
| --- | --- | --- | --- | --- |
| Bust (cm) | 60 - 70 | 70 - 80 | 80 - 90 | 90 - 95 |
| Bust (in) | 23 - 27 | 27 - 31 | 31 - 35 | 35 - 37 |
| Waist (cm) | 85 - 95 | 95 - 105 | 105 - 115 | 115 - 125 |
| Waist (in) | 33 - 37 | 37 - 41 | 41 - 45 | 45 - 49 |
| UK Measurements | 6 - 8 / XS - S | 8 - 10 / S - M | 12 - 14 / M - L | 14 - 16 / L - XL |
| --- | --- | --- | --- | --- |
| Bust (cm) | 60 - 70 | 70 - 80 | 80 - 90 | 90 - 95 |
| Bust (in) | 23 - 27 | 27 - 31 | 31 - 35 | 35 - 37 |
| Waist (cm) | 85 - 95 | 95 - 105 | 105 - 115 | 115 - 125 |
| Waist (in) | 33 - 37 | 37 - 41 | 41 - 45 | 45 - 49 |
| UK Measurements | 6 - 8 / XS - S | 8 - 10 / S - M | 12 - 14 / M - L | 16 / L - XL |
| --- | --- | --- | --- | --- |
| Bust (cm) | 60 - 70 | 70 - 80 | 80 - 90 | 90 - 95 |
| Bust (in) | 23 - 27 | 27 - 31 | 31 - 35 | 35 - 37 |
| Waist (cm) | 85 - 95 | 95 - 105 | 105 - 115 | 115 - 125 |
| Waist (in) | 33 - 37 | 37 - 41 | 41 - 45 | 45 - 49 |
| UK Measurements | 6 - 8 / XS - S | 8 - 10 / S - M | 12 - 14 / M - L | 14 - 16 / L - XL |
| --- | --- | --- | --- | --- |
| Bust (cm) | 60 - 70 | 70 - 80 | 80 - 90 | 90 - 95 |
| Bust (in) | 23 - 27 | 27 - 31 | 31 - 35 | 35 - 37 |
| Waist (cm) | 85 - 95 | 95 - 105 | 105 - 115 | 115 - 125 |
| Waist (in) | 33 - 37 | 37 - 41 | 41 - 45 | 45 - 49 |
| UK Measurements | 6 - 8 / XS - S | 8 - 10 / S - M | 12 - 14 / M - L | 16 / L - XL |
| --- | --- | --- | --- | --- |
| Bust (cm) | 60 - 70 | 70 - 80 | 80 - 90 | 90 - 95 |
| Bust (in) | 23 - 27 | 27 - 31 | 31 - 35 | 35 - 37 |
| Waist (cm) | 85 - 95 | 95 - 105 | 105 - 115 | 115 - 125 |
| Waist (in) | 33 - 37 | 37 - 41 | 41 - 45 | 45 - 49 |
| UK Measurements | 6 - 8 / XS - S | 8 - 10 / S - M | 12 - 14 / M - L | 14 - 16 / L - XL |
| --- | --- | --- | --- | --- |
| Bust (cm) | 60 - 70 | 70 - 80 | 80 - 90 | 90 - 95 |
| Bust (in) | 23 - 27 | 27 - 31 | 31 - 35 | 35 - 37 |
| Waist (cm) | 85 - 95 | 95 - 105 | 105 - 115 | 115 - 125 |
| Waist (in) | 33 - 37 | 37 - 41 | 41 - 45 | 45 - 49 |
| UK Measurements | 6 - 8 / XS - S | 8 - 10 / S - M | 12 - 14 / M - L | 16 / L - XL |
| --- | --- | --- | --- | --- |
| Bust (cm) | 60 - 70 | 70 - 80 | 80 - 90 | 90 - 95 |
| Bust (in) | 23 - 27 | 27 - 31 | 31 - 35 | 35 - 37 |
| Waist (cm) | 85 - 95 | 95 - 105 | 105 - 115 | 115 - 125 |
| Waist (in) | 33 - 37 | 37 - 41 | 41 - 45 | 45 - 49 |
| UK Measurements | 6 - 8 / XS - S | 8 - 10 / S - M | 12 - 14 / M - L | 14 - 16 / L - XL |
| --- | --- | --- | --- | --- |
| Bust (cm) | 60 - 70 | 70 - 80 | 80 - 90 | 90 - 95 |
| Bust (in) | 23 - 27 | 27 - 31 | 31 - 35 | 35 - 37 |
| Waist (cm) | 85 - 95 | 95 - 105 | 105 - 115 | 115 - 125 |
| Waist (in) | 33 - 37 | 37 - 41 | 41 - 45 | 45 - 49 |
| UK Measurements | 6 - 8 / XS - S | 8 - 10 / S - M | 12 - 14 / M - L | 16 / L - XL |
| --- | --- | --- | --- | --- |
| Bust (cm) | 60 - 70 | 70 - 80 | 80 - 90 | 90 - 95 |
| Bust (in) | 23 - 27 | 27 - 31 | 31 - 35 | 35 - 37 |
| Waist (cm) | 85 - 95 | 95 - 105 | 105 - 115 | 115 - 125 |
| Waist (in) | 33 - 37 | 37 - 41 | 41 - 45 | 45 - 49 |
| UK Measurements | 6 - 8 / XS - S | 8 - 10 / S - M | 12 - 14 / M - L | 14 - 16 / L - XL |
| --- | --- | --- | --- | --- |
| Bust (cm) | 60 - 70 | 70 - 80 | 80 - 90 | 90 - 95 |
| Bust (in) | 23 - 27 | 27 - 31 | 31 - 35 | 35 - 37 |
| Waist (cm) | 85 - 95 | 95 - 105 | 105 - 115 | 115 - 125 |
| Waist (in) | 33 - 37 | 37 - 41 | 41 - 45 | 45 - 49 |
| UK Measurements | 6 - 8 / XS - S | 8 - 10 / S - M | 12 - 14 / M - L | 16 / L - XL |
| --- | --- | --- | --- | --- |
| Bust (cm) | 60 - 70 | 70 - 80 | 80 - 90 | 90 - 95 |
| Bust (in) | 23 - 27 | 27 - 31 | 31 - 35 | 35 - 37 |
| Waist (cm) | 85 - 95 | 95 - 105 | 105 - 115 | 115 - 125 |
| Waist (in) | 33 - 37 | 37 - 41 | 41 - 45 | 45 - 49 |
| UK Measurements | 6 - 8 / XS - S | 8 - 10 / S - M | 12 - 14 / M - L | 14 - 16 / L - XL |
| --- | --- | --- | --- | --- |
| Bust (cm) | 60 - 70 | 70 - 80 | 80 - 90 | 90 - 95 |
| Bust (in) | 23 - 27 | 27 - 31 | 31 - 35 | 35 - 37 |
| Waist (cm) | 85 - 95 | 95 - 105 | 105 - 115 | 115 - 125 |
| Waist (in) | 33 - 37 | 37 - 41 | 41 - 45 | 45 - 49 |
| UK Measurements | 6 - 8 / XS - S | 8 - 10 / S - M | 12 - 14 / M - L | 16 / L - XL |
| --- | --- | --- | --- | --- |
| Bust (cm) | 60 - 70 | 70 - 80 | 80 - 90 | 90 - 95 |
| Bust (in) | 23 - 27 | 27 - 31 | 31 - 35 | 35 - 37 |
| Waist (cm) | 85 - 95 | 95 - 105 | 105 - 115 | 115 - 125 |
| Waist (in) | 33 - 37 | 37 - 41 | 41 - 45 | 45 - 49 |
| UK Measurements | 6 - 8 / XS - S | 8 - 10 / S - M | 12 - 14 / M - L | 14 - 16 / L - XL |
| --- | --- | --- | --- | --- |
| Bust (cm) | 60 - 70 | 70 - 80 | 80 - 90 | 90 - 95 |
| Bust (in) | 23 - 27 | 27 - 31 | 31 - 35 | 35 - 37 |
| Waist (cm) | 85 - 95 | 95 - 105 | 105 - 115 | 115 - 125 |
| Waist (in) | 33 - 37 | 37 - 41 | 41 - 45 | 45 - 49 |
| UK Measurements | 6 - 8 / XS - S | 8 - 10 / S - M | 12 - 14 / M - L | 16 / L - XL |
| --- | --- | --- | --- | --- |
| Bust (cm) | 60 - 70 | 70 - 80 | 80 - 90 | 90 - 95 |
| Bust (in) | 23 - 27 | 27 - 31 | 31 - 35 | 35 - 37 |
| Waist (cm) | 85 - 95 | 95 - 105 | 105 - 115 | 115 - 125 |
| Waist (in) | 33 - 37 | 37 - 41 | 41 - 45 | 45 - 49 |
| UK Measurements | 6 - 8 / XS - S | 8 - 10 / S - M | 12 - 14 / M - L | 14 - 16 / L - XL |
| --- | --- | --- | --- | --- |
| Bust (cm) | 60 - 70 | 70 - 80 | 80 - 90 | 90 - 95 |
| Bust (in) | 23 - 27 | 27 - 31 | 31 - 35 | 35 - 37 |
| Waist (cm) | 85 - 95 | 95 - 105 | 105 - 115 | 115 - 125 |
| Waist (in) | 33 - 37 | 37 - 41 | 41 - 45 | 45 - 49 |
| UK Measurements | 6 - 8 / XS - S | 8 - 10 / S - M | 12 - 14 / M - L | 16 / L - XL |
| --- | --- | --- | --- | --- |
| Bust (cm) | 60 - 70 | 70 - 80 | 80 - 90 | 90 - 95 |
| Bust (in) | 23 - 27 | 27 - 31 | 31 - 35 | 35 - 37 |
| Waist (cm) | 85 - 95 | 95 - 105 | 105 - 115 | 115 - 125 |
| Waist (in) | 33 - 37 | 37 - 41 | 41 - 45 | 45 - 49 |
| UK Measurements | 6 - 8 / XS - S | 8 - 10 / S - M | 12 - 14 / M - L | 14 - 16 / L - XL |
| --- | --- | --- | --- | --- |
| Bust (cm) | 60 - 70 | 70 - 80 | 80 - 90 | 90 - 95 |
| Bust (in) | 23 - 27 | 27 - 31 | 31 - 35 | 35 - 37 |
| Waist (cm) | 85 - 95 | 95 - 105 | 105 - 115 | 115 - 125 |
| Waist (in) | 33 - 37 | 37 - 41 | 41 - 45 | 45 - 49 |
| UK Measurements | 6 - 8 / XS - S | 8 - 10 / S - M | 12 - 14 / M - L | 16 / L - XL |
| --- | --- | --- | --- | --- |
| Bust (cm) | 60 - 70 | 70 - 80 | 80 - 90 | 90 - 95 |
| Bust (in) | 23 - 27 | 27 - 31 | 31 - 35 | 35 - 37 |
| Waist (cm) | 85 - 95 | 95 - 105 | 105 - 115 | 115 - 125 |
| Waist (in) | 33 - 37 | 37 - 41 | 41 - 45 | 45 - 49 |
| UK Measurements | 6 - 8 / XS - S | 8 - 10 / S - M | 12 - 14 / M - L | 14 - 16 / L - XL |
| --- | --- | --- | --- | --- |
| Bust (cm) | 60 - 70 | 70 - 80 | 80 - 90 | 90 - 95 |
| Bust (in) | 23 - 27 | 27 - 31 | 31 - 35 | 35 - 37 |
| Waist (cm) | 85 - 95 | 95 - 105 | 105 - 115 | 115 - 125 |
| Waist (in) | 33 - 37 | 37 - 41 | 41 - 45 | 45 - 49 |
| UK Measurements | 6 - 8 / XS - S | 8 - 10 / S - M | 12 - 14 / M - L | 16 / L - XL |
| --- | --- | --- | --- | --- |
| Bust (cm) | 60 - 70 | 70 - 80 | 80 - 90 | 90 - 95 |
| Bust (in) | 23 - 27 | 27 - 31 | 31 - 35 | 35 - 37 |
| Waist (cm) | 85 - 95 | 95 - 105 | 105 - 115 | 115 - 125 |
| Waist (in) | 33 - 37 | 37 - 41 | 41 - 45 | 45 - 49 |
| UK Measurements | 6 - 8 / XS - S | 8 - 10 / S - M | 12 - 14 / M - L | 14 - 16 / L - XL |
| --- | --- | --- | --- | --- |
| Bust (cm) | 60 - 70 | 70 - 80 | 80 - 90 | 90 - 95 |
| Bust (in) | 23 - 27 | 27 - 31 | 31 - 35 | 35 - 37 |
| Waist (cm) | 85 - 95 | 95 - 105 | 105 - 115 | 115 - 125 |
| Waist (in) | 33 - 37 | 37 - 41 | 41 - 45 | 45 - 49 |
| UK Measurements | 6 - 8 / XS - S | 8 - 10 / S - M | 12 - 14 / M - L | 16 / L - XL |
| --- | --- | --- | --- | --- |
| Bust (cm) | 60 - 70 | 70 - 80 | 80 - 90 | 90 - 95 |
| Bust (in) | 23 - 27 | 27 - 31 | 31 - 35 | 35 - 37 |
| Waist (cm) | 85 - 95 | 95 - 105 | 105 - 115 | 115 - 125 |
| Waist (in) | 33 - 37 | 37 - 41 | 41 - 45 | 45 - 49 |
| UK Measurements | 6 - 8 / XS - S | 8 - 10 / S - M | 12 - 14 / M - L | 14 - 16 / L - XL |
| --- | --- | --- | --- | --- |
| Bust (cm) | 60 - 70 | 70 - 80 | 80 - 90 | 90 - 95 |
| Bust (in) | 23 - 27 | 27 - 31 | 31 - 35 | 35 - 37 |
| Waist (cm) | 85 - 95 | 95 - 105 | 105 - 115 | 115 - 125 |
| Waist (in) | 33 - 37 | 37 - 41 | 41 - 45 | 45 - 49 |
| UK Measurements | 6 - 8 / XS - S | 8 - 10 / S - M | 12 - 14 / M - L | 16 / L - XL |
| --- | --- | --- | --- | --- |
| Bust (cm) | 60 - 70 | 70 - 80 | 80 - 90 | 90 - 95 |
| Bust (in) | 23 - 27 | 27 - 31 | 31 - 35 | 35 - 37 |
| Waist (cm) | 85 - 95 | 95 - 105 | 105 - 115 | 115 - 125 |
| Waist (in) | 33 - 37 | 37 - 41 | 41 - 45 | 45 - 49 |
| UK Measurements | 6 - 8 / XS - S | 8 - 10 / S - M | 12 - 14 / M - L | 14 - 16 / L - XL |
| --- | --- | --- | --- | --- |
| Bust (cm) | 60 - 70 | 70 - 80 | 80 - 90 | 90 - 95 |
| Bust (in) | 23 - 27 | 27 - 31 | 31 - 35 | 35 - 37 |
| Waist (cm) | 85 - 95 | 95 - 105 | 105 - 115 | 115 - 125 |
| Waist (in) | 33 - 37 | 37 - 41 | 41 - 45 | 45 - 49 |
| UK Measurements | 6 - 8 / XS - S | 8 - 10 / S - M | 12 - 14 / M - L | 16 / L - XL |
| --- | --- | --- | --- | --- |
| Bust (cm) | 60 - 70 | 70 - 80 | 80 - 90 | 90 - 95 |
| Bust (in) | 23 - 27 | 27 - 31 | 31 - 35 | 35 - 37 |
| Waist (cm) | 85 - 95 | 95 - 105 | 105 - 115 | 115 - 125 |
| Waist (in) | 33 - 37 | 37 - 41 | 41 - 45 | 45 - 49 |
| UK Measurements | 6 - 8 / XS - S | 8 - 10 / S - M | 12 - 14 / M - L | 14 - 16 / L - XL |
| --- | --- | --- | --- | --- |
| Bust (cm) | 60 - 70 | 70 - 80 | 80 - 90 | 90 - 95 |
| Bust (in) | 23 - 27 | 27 - 31 | 31 - 35 | 35 - 37 |
| Waist (cm) | 85 - 95 | 95 - 105 | 105 - 115 | 115 - 125 |
| Waist (in) | 33 - 37 | 37 - 41 | 41 - 45 | 45 - 49 |
| UK Measurements | 6 - 8 / XS - S | 8 - 10 / S - M | 12 - 14 / M - L | 16 / L - XL |
| --- | --- | --- | --- | --- |
| Bust (cm) | 60 - 70 | 70 - 80 | 80 - 90 | 90 - 95 |
| Bust (in) | 23 - 27 | 27 - 31 | 31 - 35 | 35 - 37 |
| Waist (cm) | 85 - 95 | 95 - 105 | 105 - 115 | 115 - 125 |
| Waist (in) | 33 - 37 | 37 - 41 | 41 - 45 | 45 - 49 |
| UK Measurements | 6 - 8 / XS - S | 8 - 10 / S - M | 12 - 14 / M - L | 14 - 16 / L - XL |
| --- | --- | --- | --- | --- |
| Bust (cm) | 60 - 70 | 70 - 80 | 80 - 90 | 90 - 95 |
| Bust (in) | 23 - 27 | 27 - 31 | 31 - 35 | 35 - 37 |
| Waist (cm) | 85 - 95 | 95 - 105 | 105 - 115 | 115 - 125 |
| Waist (in) | 33 - 37 | 37 - 41 | 41 - 45 | 45 - 49 |
| UK Measurements | 6 - 8 / XS - S | 8 - 10 / S - M | 12 - 14 / M - L | 16 / L - XL |
| --- | --- | --- | --- | --- |
| Bust (cm) | 60 - 70 | 70 - 80 | 80 - 90 | 90 - 95 |
| Bust (in) | 23 - 27 | 27 - 31 | 31 - 35 | 35 - 37 |
| Waist (cm) | 85 - 95 | 95 - 105 | 105 - 115 | 115 - 125 |
| Waist (in) | 33 - 37 | 37 - 41 | 41 - 45 | 45 - 49 |
| UK Measurements | 6 - 8 / XS - S | 8 - 10 / S - M | 12 - 14 / M - L | 14 - 16 / L - XL |
| --- | --- | --- | --- | --- |
| Bust (cm) | 60 - 70 | 70 - 80 | 80 - 90 | 90 - 95 |
| Bust (in) | 23 - 27 | 27 - 31 | 31 - 35 | 35 - 37 |
| Waist (cm) | 85 - 95 | 95 - 105 | 105 - 115 | 115 - 125 |
| Waist (in) | 33 - 37 | 37 - 41 | 41 - 45 | 45 - 49 |
| UK Measurements | 6 - 8 / XS - S | 8 - 10 / S - M | 12 - 14 / M - L | 16 / L - XL |
| --- | --- | --- | --- | --- |
| Bust (cm) | 60 - 70 | 70 - 80 | 80 - 90 | 90 - 95 |
| Bust (in) | 23 - 27 | 27 - 31 | 31 - 35 | 35 - 37 |
| Waist (cm) | 85 - 95 | 95 - 105 | 105 - 115 | 115 - 125 |
| Waist (in) | 33 - 37 | 37 - 41 | 41 - 45 | 45 - 49 |
| UK Measurements | 6 - 8 / XS - S | 8 - 10 / S - M | 12 - 14 / M - L | 14 - 16 / L - XL |
| --- | --- | --- | --- | --- |
| Bust (cm) | 60 - 70 | 70 - 80 | 80 - 90 | 90 - 95 |
| Bust (in) | 23 - 27 | 27 - 31 | 31 - 35 | 35 - 37 |
| Waist (cm) | 85 - 95 | 95 - 105 | 105 - 115 | 115 - 125 |
| Waist (in) | 33 - 37 | 37 - 41 | 41 - 45 | 45 - 49 |
| UK Measurements | 6 - 8 / XS - S | 8 - 10 / S - M | 12 - 14 / M - L | 16 / L - XL |
| --- | --- | --- | --- | --- |
| Bust (cm) | 60 - 70 | 70 - 80 | 80 - 90 | 90 - 95 |
| Bust (in) | 23 - 27 | 27 - 31 | 31 - 35 | 35 - 37 |
| Waist (cm) | 85 - 95 | 95 - 105 | 105 - 115 | 115 - 125 |
| Waist (in) | 33 - 37 | 37 - 41 | 41 - 45 | 45 - 49 |
| UK Measurements | 6 - 8 / XS - S | 8 - 10 / S - M | 12 - 14 / M - L | 14 - 16 / L - XL |
| --- | --- | --- | --- | --- |
| Bust (cm) | 60 - 70 | 70 - 80 | 80 - 90 | 90 - 95 |
| Bust (in) | 23 - 27 | 27 - 31 | 31 - 35 | 35 - 37 |
| Waist (cm) | 85 - 95 | 95 - 105 | 105 - 115 | 115 - 125 |
| Waist (in) | 33 - 37 | 37 - 41 | 41 - 45 | 45 - 49 |
| UK Measurements | 6 - 8 / XS - S | 8 - 10 / S - M | 12 - 14 / M - L | 16 / L - XL |
| --- | --- | --- | --- | --- |
| Bust (cm) | 60 - 70 | 70 - 80 | 80 - 90 | 90 - 95 |
| Bust (in) | 23 - 27 | 27 - 31 | 31 - 35 | 35 - 37 |
| Waist (cm) | 85 - 95 | 95 - 105 | 105 - 115 | 115 - 125 |
| Waist (in) | 33 - 37 | 37 - 41 | 41 - 45 | 45 - 49 |
| UK Measurements | 6 - 8 / XS - S | 8 - 10 / S - M | 12 - 14 / M - L | 14 - 16 / L - XL |
| --- | --- | --- | --- | --- |
| Bust (cm) | 60 - 70 | 70 - 80 | 80 - 90 | 90 - 95 |
| Bust (in) | 23 - 27 | 27 - 31 | 31 - 35 | 35 - 37 |
| Waist (cm) | 85 - 95 | 95 - 105 | 105 - 115 | 115 - 125 |
| Waist (in) | 33 - 37 | 37 - 41 | 41 - 45 | 45 - 49 |
| UK Measurements | 6 - 8 / XS - S | 8 - 10 / S - M | 12 - 14 / M - L | 16 / L - XL |
| --- | --- | --- | --- | --- |
| Bust (cm) | 60 - 70 | 70 - 80 | 80 - 90 | 90 - 95 |
| Bust (in) | 23 - 27 | 27 - 31 | 31 - 35 | 35 - 37 |
| Waist (cm) | 85 - 95 | 95 - 105 | 105 - 115 | 115 - 125 |
| Waist (in) | 33 - 37 | 37 - 41 | 41 - 45 | 45 - 49 |
| UK Measurements | 6 - 8 / XS - S | 8 - 10 / S - M | 12 - 14 / M - L | 14 - 16 / L - XL |
| --- | --- | --- | --- | --- |
| Bust (cm) | 60 - 70 | 70 - 80 | 80 - 90 | 90 - 95 |
| Bust (in) | 23 - 27 | 27 - 31 | 31 - 35 | 35 - 37 |
| Waist (cm) | 85 - 95 | 95 - 105 | 105 - 115 | 115 - 125 |
| Waist (in) | 33 - 37 | 37 - 41 | 41 - 45 | 45 - 49 |
| UK Measurements | 6 - 8 / XS - S | 8 - 10 / S - M | 12 - 14 / M - L | 16 / L - XL |
| --- | --- | --- | --- | --- |
| Bust (cm) | 60 - 70 | 70 - 80 | 80 - 90 | 90 - 95 |
| Bust (in) | 23 - 27 | 27 - 31 | 31 - 35 | 35 - 37 |
| Waist (cm) | 85 - 95 | 95 - 105 | 105 - 115 | 115 - 125 |
| Waist (in) | 33 - 37 | 37 - 41 | 41 - 45 | 45 - 49 |
| UK Measurements | 6 - 8 / XS - S | 8 - 10 / S - M | 12 - 14 / M - L | 14 - 16 / L - XL |
| --- | --- | --- | --- | --- |
| Bust (cm) | 60 - 70 | 70 - 80 | 80 - 90 | 90 - 95 |
| Bust (in) | 23 - 27 | 27 - 31 | 31 - 35 | 35 - 37 |
| Waist (cm) | 85 - 95 | 95 - 105 | 105 - 115 | 115 - 125 |
| Waist (in) | 33 - 37 | 37 - 41 | 41 - 45 | 45 - 49 |
| UK Measurements | 6 - 8 / XS - S | 8 - 10 / S - M | 12 - 14 / M - L | 16 / L - XL |
| --- | --- | --- | --- | --- |
| Bust (cm) | 60 - 70 | 70 - 80 | 80 - 90 | 90 - 95 |
| Bust (in) | 23 - 27 | 27 - 31 | 31 - 35 | 35 - 37 |
| Waist (cm) | 85 - 95 | 95 - 105 | 105 - 115 | 115 - 125 |
| Waist (in) | 33 - 37 | 37 - 41 | 41 - 45 | 45 - 49 |
| UK Measurements | 6 - 8 / XS - S | 8 - 10 / S - M | 12 - 14 / M - L | 14 - 16 / L - XL |
| --- | --- | --- | --- | --- |
| Bust (cm) | 60 - 70 | 70 - 80 | 80 - 90 | 90 - 95 |
| Bust (in) | 23 - 27 | 27 - 31 | 31 - 35 | 35 - 37 |
| Waist (cm) | 85 - 95 | 95 - 105 | 105 - 115 | 115 - 125 |
| Waist (in) | 33 - 37 | 37 - 41 | 41 - 45 | 45 - 49 |
| UK Measurements | 6 - 8 / XS - S | 8 - 10 / S - M | 12 - 14 / M - L | 16 / L - XL |
| --- | --- | --- | --- | --- |
| Bust (cm) | 60 - 70 | 70 - 80 | 80 - 90 | 90 - 95 |
| Bust (in) | 23 - 27 | 27 - 31 | 31 - 35 | 35 - 37 |
| Waist (cm) | 85 - 95 | 95 - 105 | 105 - 115 | 115 - 125 |
| Waist (in) | 33 - 37 | 37 - 41 | 41 - 45 | 45 - 49 |
| UK Measurements | 6 - 8 / XS - S | 8 - 10 / S - M | 12 - 14 / M - L | 14 - 16 / L - XL |
| --- | --- | --- | --- | --- |
| Bust (cm) | 60 - 70 | 70 - 80 | 80 - 90 | 90 - 95 |
| Bust (in) | 23 - 27 | 27 - 31 | 31 - 35 | 35 - 37 |
| Waist (cm) | 85 - 95 | 95 - 105 | 105 - 115 | 115 - 125 |
| Waist (in) | 33 - 37 | 37 - 41 | 41 - 45 | 45 - 49 |
| UK Measurements | 6 - 8 / XS - S | 8 - 10 / S - M | 12 - 14 / M - L | 16 / L - XL |
| --- | --- | --- | --- | --- |
| Bust (cm) | 60 - 70 | 70 - 80 | 80 - 90 | 90 - 95 |
| Bust (in) | 23 - 27 | 27 - 31 | 31 - 35 | 35 - 37 |
| Waist (cm) | 85 - 95 | 95 - 105 | 105 - 115 | 115 - 125 |
| Waist (in) | 33 - 37 | 37 - 41 | 41 - 45 | 45 - 49 |
| UK Measurements | 6 - 8 / XS - S | 8 - 10 / S - M | 12 - 14 / M - L | 14 - 16 / L - XL |
| --- | --- | --- | --- | --- |
| Bust (cm) | 60 - 70 | 70 - 80 | 80 - 90 | 90 - 95 |
| Bust (in) | 23 - 27 | 27 - 31 | 31 - 35 | 35 - 37 |
| Waist (cm) | 85 - 95 | 95 - 105 | 105 - 115 | 115 - 125 |
| Waist (in) | 33 - 37 | 37 - 41 | 41 - 45 | 45 - 49 |
| UK Measurements | 6 - 8 / XS - S | 8 - 10 / S - M | 12 - 14 / M - L | 16 / L - XL |
| --- | --- | --- | --- | --- |
| Bust (cm) | 60 - 70 | 70 - 80 | 80 - 90 | 90 - 95 |
| Bust (in) | 23 - 27 | 27 - 31 | 31 - 35 | 35 - 37 |
| Waist (cm) | 85 - 95 | 95 - 105 | 105 - 115 | 115 - 125 |
| Waist (in) | 33 - 37 | 37 - 41 | 41 - 45 | 45 - 49 |
| UK Measurements | 6 - 8 / XS - S | 8 - 10 / S - M | 12 - 14 / M - L | 14 - 16 / L - XL |
| --- | --- | --- | --- | --- |
| Bust (cm) | 60 - 70 | 70 - 80 | 80 - 90 | 90 - 95 |
| Bust (in) | 23 - 27 | 27 - 31 | 31 - 35 | 35 - 37 |
| Waist (cm) | 85 - 95 | 95 - 105 | 105 - 115 | 115 - 125 |
| Waist (in) | 33 - 37 | 37 - 41 | 41 - 45 | 45 - 49 |
| UK Measurements | 6 - 8 / XS - S | 8 - 10 / S - M | 12 - 14 / M - L | 16 / L - XL |
| --- | --- | --- | --- | --- |
| Bust (cm) | 60 - 70 | 70 - 80 | 80 - 90 | 90 - 95 |
| Bust (in) | 23 - 27 | 27 - 31 | 31 - 35 | 35 - 37 |
| Waist (cm) | 85 - 95 | 95 - 105 | 105 - 115 | 115 - 125 |
| Waist (in) | 33 - 37 | 37 - 41 | 41 - 45 | 45 - 49 |
| UK Measurements | 6 - 8 / XS - S | 8 - 10 / S - M | 12 - 14 / M - L | 14 - 16 / L - XL |
| --- | --- | --- | --- | --- |
| Bust (cm) | 60 - 70 | 70 - 80 | 80 - 90 | 90 - 95 |
| Bust (in) | 23 - 27 | 27 - 31 | 31 - 35 | 35 - 37 |
| Waist (cm) | 85 - 95 | 95 - 105 | 105 - 115 | 115 - 125 |
| Waist (in) | 33 - 37 | 37 - 41 | 41 - 45 | 45 - 49 |
| UK Measurements | 6 - 8 / XS - S | 8 - 10 / S - M | 12 - 14 / M - L | 16 / L - XL |
| --- | --- | --- | --- | --- |
| Bust (cm) | 60 - 70 | 70 - 80 | 80 - 90 | 90 - 95 |
| Bust (in) | 23 - 27 | 27 - 31 | 31 - 35 | 35 - 37 |
| Waist (cm) | 85 - 95 | 95 - 105 | 105 - 115 | 115 - 125 |
| Waist (in) | 33 - 37 | 37 - 41 | 41 - 45 | 45 - 49 |
| UK Measurements | 6 - 8 / XS - S | 8 - 10 / S - M | 12 - 14 / M - L | 14 - 16 / L - XL |
| --- | --- | --- | --- | --- |
| Bust (cm) | 60 - 70 | 70 - 80 | 80 - 90 | 90 - 95 |
| Bust (in) | 23 - 27 | 27 - 31 | 31 - 35 | 35 - 37 |
| Waist (cm) | 85 - 95 | 95 - 105 | 105 - 115 | 115 - 125 |
| Waist (in) | 33 - 37 | 37 - 41 | 41 - 45 | 45 - 49 |
| UK Measurements | 6 - 8 / XS - S | 8 - 10 / S - M | 12 - 14 / M - L | 16 / L - XL |
| --- | --- | --- | --- | --- |
| Bust (cm) | 60 - 70 | 70 - 80 | 80 - 90 | 90 - 95 |
| Bust (in) | 23 - 27 | 27 - 31 | 31 - 35 | 35 - 37 |
| Waist (cm) | 85 - 95 | 95 - 105 | 105 - 115 | 115 - 125 |
| Waist (in) | 33 - 37 | 37 - 41 | 41 - 45 | 45 - 49 |
| UK Measurements | 6 - 8 / XS - S | 8 - 10 / S - M | 12 - 14 / M - L | 14 - 16 / L - XL |
| --- | --- | --- | --- | --- |
| Bust (cm) | 60 - 70 | 70 - 80 | 80 - 90 | 90 - 95 |
| Bust (in) | 23 - 27 | 27 - 31 | 31 - 35 | 35 - 37 |
| Waist (cm) | 85 - 95 | 95 - 105 | 105 - 115 | 115 - 125 |
| Waist (in) | 33 - 37 | 37 - 41 | 41 - 45 | 45 - 49 |
| UK Measurements | 6 - 8 / XS - S | 8 - 10 / S - M | 12 - 14 / M - L | 16 / L - XL |
| --- | --- | --- | --- | --- |
| Bust (cm) | 60 - 70 | 70 - 80 | 80 - 90 | 90 - 95 |
| Bust (in) | 23 - 27 | 27 - 31 | 31 - 35 | 35 - 37 |
| Waist (cm) | 85 - 95 | 95 - 105 | 105 - 115 | 115 - 125 |
| Waist (in) | 33 - 37 | 37 - 41 | 41 - 45 | 45 - 49 |
| UK Measurements | 6 - 8 / XS - S | 8 - 10 / S - M | 12 - 14 / M - L | 14 - 16 / L - XL |
| --- | --- | --- | --- | --- |
| Bust (cm) | 60 - 70 | 70 - 80 | 80 - 90 | 90 - 95 |
| Bust (in) | 23 - 27 | 27 - 31 | 31 - 35 | 35 - 37 |
| Waist (cm) | 85 - 95 | 95 - 105 | 105 - 115 | 115 - 125 |
| Waist (in) | 33 - 37 | 37 - 41 | 41 - 45 | 45 - 49 |